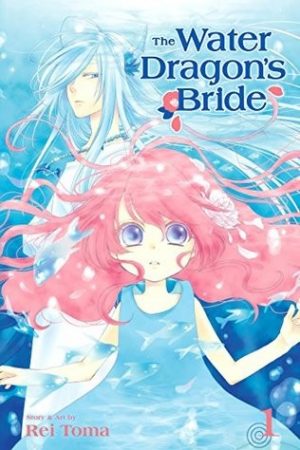 Title:

The Water Dragon's Bride, Vol 1

by Rei Toma
Series: The Water Dragon's Bride
Published by
Viz Media
Released:
April 4th 2017
Genres:
Comics & Graphic Novels
,
Fantasy
,
Manga
,
Romance
Length:
192
Format Read:
Paperback
Links:
Goodreads
|
Amazon
|
Barnes & Noble
|
ThriftBooks
My Rating:

A modern-day girl gets whisked away to a strange land where she is sacrificed to a water dragon god! In the blink of an eye, a modern-day girl named Asahi is whisked away from her warm and happy home and stranded in a strange and mysterious world where she is sacrificed to a water dragon god! What plans are in store for her, and what will happen when she comes face to face with this god? A young boy named Subaru comes to Asahi's aid, but despite his help, Asahi must endure a test of survival! Will she be able to make it out alive, or will she end up being sacrificed?
The Water Dragon's Bride is one of the newest series published under Viz Media's Shojo Beat imprint and falls under the fantasy and romance area. The story opens with Ashai's father calling her outside to look at the new decoration he got for their pond. Once she takes a look at it and turns to leave, the water either takes her through time or to another world. In this new place a young boy named Subaru stumbles across her in the forest and takes her to his village until she can find her way back home, however, the villagers have other plans: holding a ceremony and sacrificing her to a water dragon god.
The Water Dragon's Bride has an interesting and mysterious premise, and being only the first volume it leaves me with a few questions, such as why did her pond take her someplace else? It was a light read, as manga usually is, and I enjoy the simplicity of the artwork. I also like how Subaru (yes, just like the car manufacturer) is very protective of Ashai and attempts to save her all the time at any cost. Will Ashai end up finding her way back home somehow? I sure hope so! I have a feeling that if she were to, the water dragon god would have something to do with it. I'm looking forward to volume two, which is actually coming out tomorrow!
Related Posts