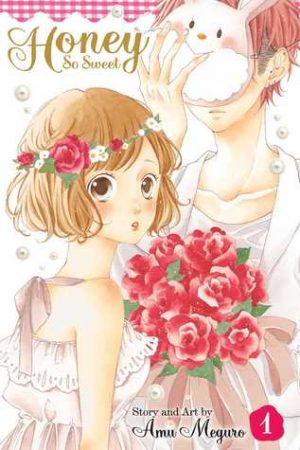 Title:

Honey So Sweet, Vol 1

by Amu Meouro
Series: Honey So Sweet
Also in this series:
Honey So Sweet, Vol. 3
Published by
Viz Media
Released:
January 5, 2016
Genres:
Comics & Graphic Novels
,
Manga
,
Romance
,
Young Adult
Length:
200
Format Read:
Paperback
Links:
Goodreads
|
Amazon
|
Barnes & Noble
|
ThriftBooks
Little did Nao Kogure realize back in middle school that when she left an umbrella and a box of bandages in the rain for injured delinquent Taiga Onise that she would meet him again in high school. Nao wants nothing to do with the gruff and frightening Taiga, but he suddenly presents her with a huge bouquet of flowers and asks her to date him—with marriage in mind! Is Taiga really so scary, or is he a sweetheart in disguise?
I don't really remember how I stumbled across the Honey So Sweet manga series, but when I did I was like "hey this sounds cute, let me see if my library has it! *checks* hey they do, let me go get it!". Thus I did. Viz is currently in the process of publishing all six volumes, with a new one coming out every three months. The third volume was released at the start of July, which I am currently waiting for my library to get a copy of.
So far, with two of the six volumes read, I'm really enjoying it. It's fun watching (well, reading…) Kogure and Onsie go from not knowing anything about the other person aside from rumors to being in love with each other. Just like the story itself, the artwork is great too.
If you're wondering what Honey So Sweet is about, it's about a girl, Nao Kogure, who had given a boy, Taiga Onsie, an umbrella and box of bandaids back in middle school. (they're in high school now) She didn't know him at all, all she knew about him were the rumors – that's he's a troublemaker, a delinquent, and that he even harms little animals. In high school they run into each other and Onsie says to Kogure that he'd like to date her. Since she's scared of him and believes the rumours that he is nothing but trouble, she's scared and says yes. However, as she soon finds out, none of that is true, and Onsie is one of the sweetest and most caring people on Earth. There are plenty of funny moments in the manga, plus I love how Amu Meguro would randomly go on tangents in the pencil sketch corner of the second volume. Through those pencil sketches I discovered that we both share a love of butts. No, really, see for yourself:

While we're on the topic pictures from the manga, here's a scene I really laughed at: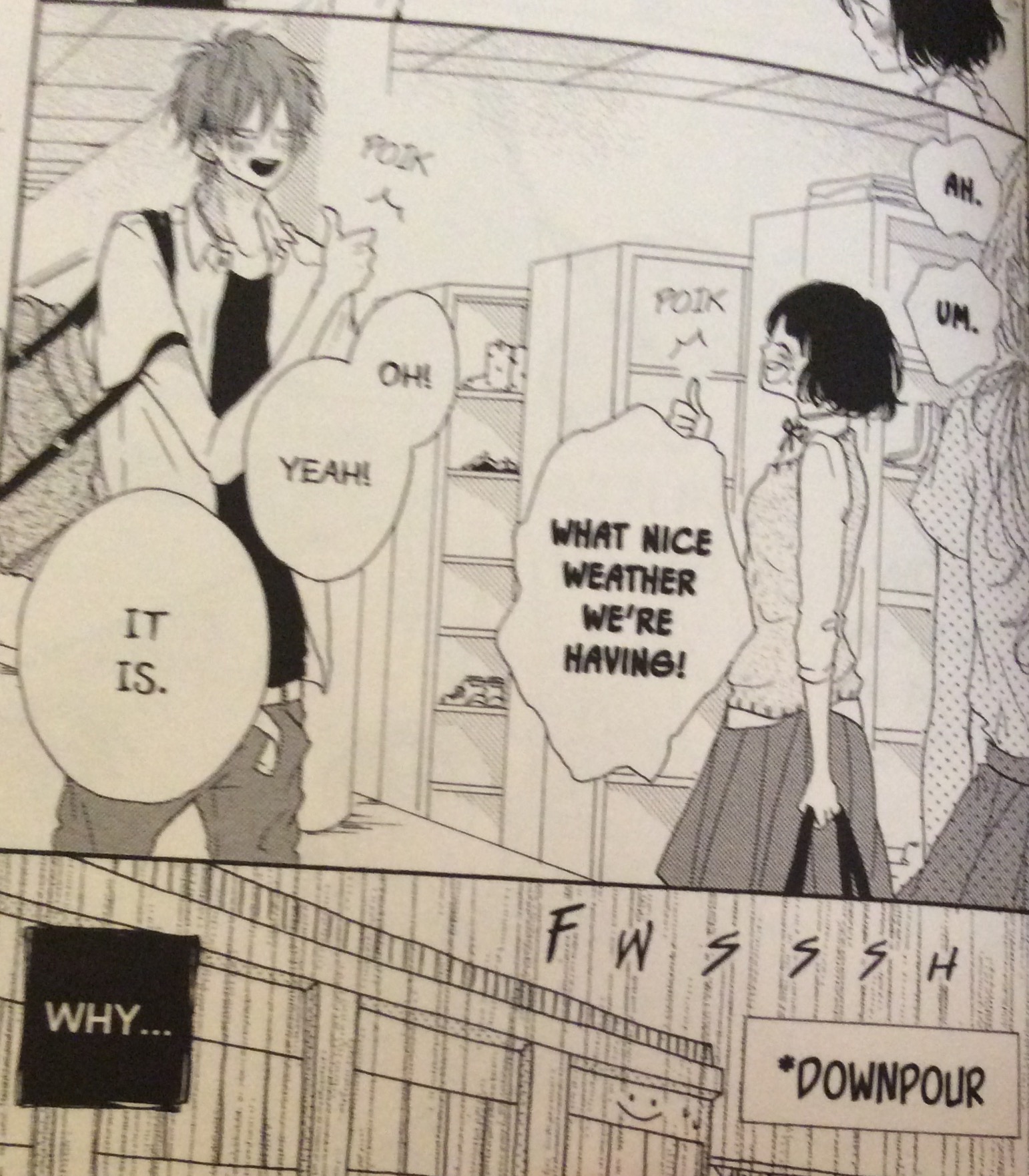 And here's a cute turtle waving hello: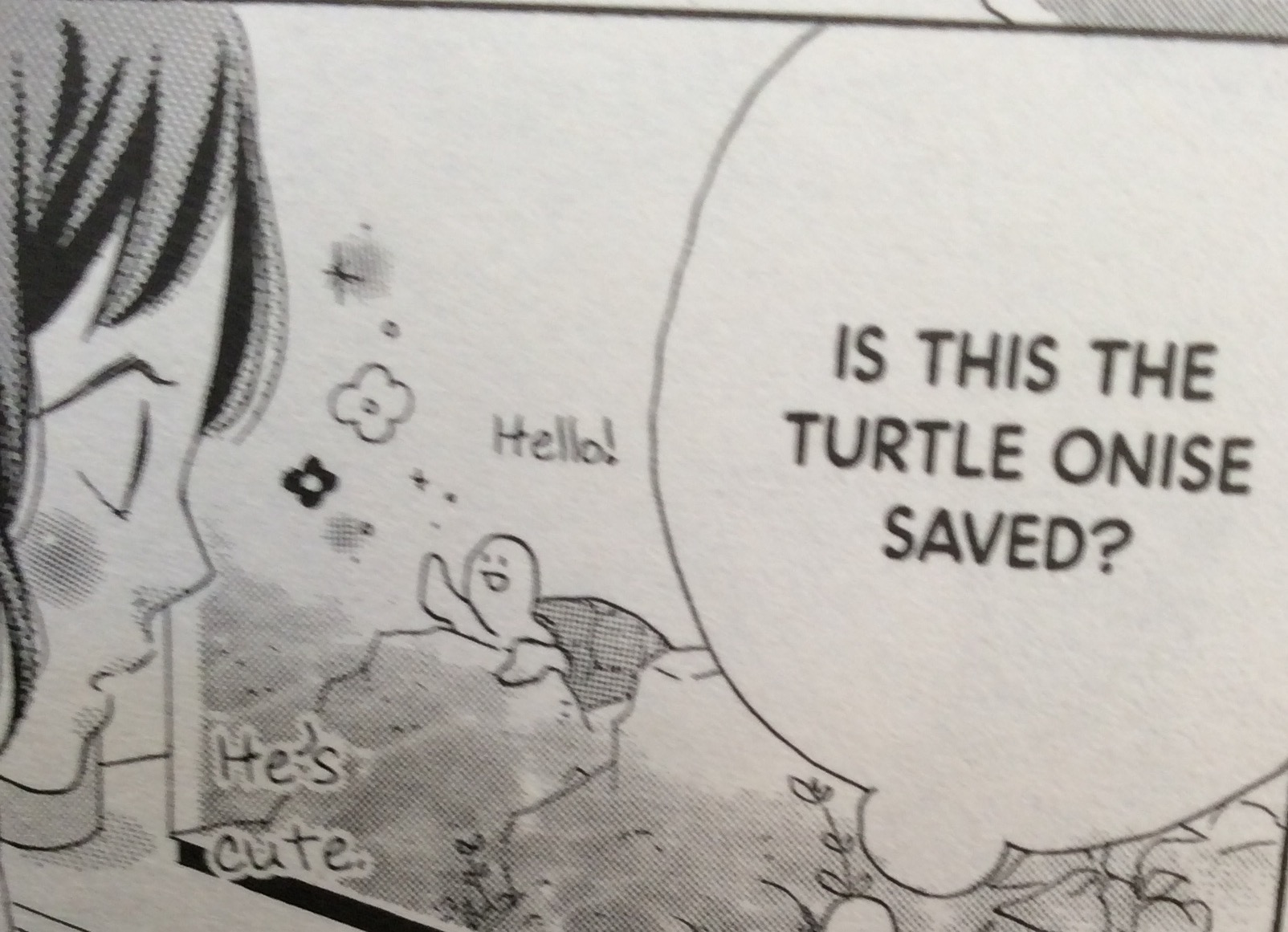 So yep, I'm definitely liking Honey So Sweet so far!
Related Posts