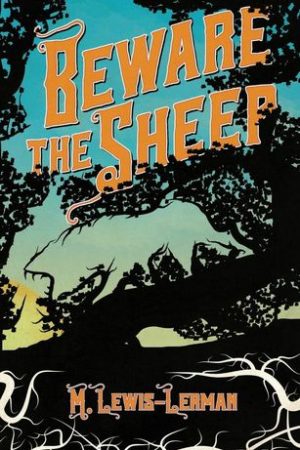 Title:

Beware The Sheep

by M. Lewis-Lerman
Published by
Opta Ardua
Released:
January 29, 2015
Genres:
Action & Adventure
,
Fantasy
,
Young Adult
Length:
224
Format Read:
eBook
Links:
Goodreads
|
Amazon
|
Barnes & Noble
My Rating:

Disclosure: I received a complimentary copy of this book from Storycartel. This does not affect my opinion of the book in any shape or form.
When illness strikes her best friend and a maniacal underground ruler wants to destroy all that is 'different', 16 year old Livi Dixon must lead -- not because of her bravery or abilities -- but out of necessity and fear.

With the hope of a cure, Livi makes a reckless gamble that just may save her friend -- but at what cost?

With her new allies (a strange and sundry group of outsiders including a handsome escaped prisoner and a kind but secretive old man), Livi sets off on a race against time, looking deep within herself in order to defeat a faceless enemy and (just maybe) manage to save her best friend in the process.

Livi's strength is tested, her character revealed, as an attempt to save one life turns into a quest to protect thousands. But is she enough to stop the shapeless evil sinking its teeth into the ones she loves? And in the end, will it even matter?
Livi Dixon's best friend is ill, but the only way to permanently cure her is by going on a suicide mission in order to get the special plant. Throughout her journeys she makes some new friends, makes some enemies, and learns a lot about both herself and the past of others. Not only that, but a dark creature keeps trying to kidnap her…who are they and why do they want her? Can she complete her journey alive?
It's been a long time since I've read fantasy – too long. It felt good to get back into the genre. I'd sort of consider this a lighter fantasy read. To me this was a lighter fantasy book – nothing too extreme, but still nonetheless fantasy – me favorite kind of fantasy books to read, actually.
From page one I was hooked. I was excited to be reading fantasy again and so the more I read the more I wanted to continue and see where Livi's journey took her. Unfortunately (at least in the copy of the book received) there were quite a few typos. It's not the end of the world and everyone makes typos, although it did become a slight nuisance. I will be notifying the authors of the the small errors I found.
I was rooting for Livi all throughout her journey. A few parts were predictable, some not. Overall I felt it was a good balance and that the book was not missing something crucial. The world Livi is in, the characters, and also the mythical beasts that the author created for the story were all very intriguing and I enjoyed Livi's encounters with them to see where the story would advance from there. Who knows, maybe one day there will be a sequel following her on another journey?
In short, I found Beware The Sheep to be a fun and enchanting young adult fantasy novel and would definitely recommend it to those who enjoy the genre. The book is definitely appropriate and suitable for younger audiences, eg. middle school years and above.
Related Posts