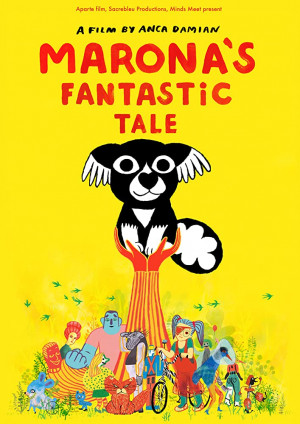 Title:
Marona's Fantastic Tale (L'extraordinaire Voyage de Marona)
Released:
January 8, 2020 (France) | June 12, 2020 (USA Streaming)
Genres:
Animation
,
Drama
,
Family
Length:
1 hour, 32 minutes
Links:
IMDB
|
Wikipedia
My Rating:

This poetic and touching film from director Anca Damian follows an optimistic stray dog named Marona as she looks back on the human companions she has loved throughout her life. Delivered alongside dazzlingly colorful, sweeping designs produced in part by acclaimed artist Brecht Evens, MARONA'S FANTASTIC TALE is a life-affirming tale told with the patient, boundless love of a dog, and reminds us that happiness is a small thing.
While GKIDS is known to most for licensing anime films in North America, they do license animated films from other countries as well. Marona's Fantastic Tale is one of their latest offerings, a French animated film written and directed by Anca Damnia.
It's been a little over a month since my family had to put our dog Ginger down due to her old age. As I loaded up the film I knew I was going to be crying during the film and sure enough, in its opening scene, my eyes began to well up. The film begins with Marona laying lifeless in the street after being hit by a car, only to rewind and tell the story of her life and how she came to be in this moment as it all flashes before her eyes. Cue the tears!
"If no one has a better idea, I'll take a moment to rewind the film of my life. I hear that's what you do when you die."
Marona's life is far from an easy one, as through her years of life she's found herself living with several different owners and being given different names. In the replay of Marona's life, we start at the very beginning when she's born, the youngest of her litter, number nine. Soon after she becomes a stray until one night an acrobat by the name of Manole takes her in, who gives Nine the name of Ana. This is the first time Ana/Marona experiences love, the first time she has a sense of belonging, a home. However, Ana realizes she is holding Manole back from reaching his dreams and full potential as an acrobat. One night she sneaks off to no longer be a burden on him.
Homeless once again, eventually Marona meets Istvan, who calls her Sara. After a while of frequently paying visits to Sara, Istvan takes her off the streets so Sara can keep his mother company. After an accident at the house, Sara switches homes again, but this time to live with Istvan and his wife rather than being on the streets again. While Istvan dearly cares for Sara/Marona, his wife is less than thrilled. Just like she picked up the sense of sadness with Manole, Marona/Sara also picks this scent up in Istvan's household and decides it's for the better that she leaves him as well.
Lastly, we have a young girl named Solange who takes Marona in. She is the owner who gives Marona that final name. Although tensions in the family are a little high from suddenly bringing a pet into the home, this becomes Marona's forever home until she's hit by a car as we first saw in the beginning. Through all of the hardships Marona's experienced over her life, she still loved her owners unconditionally and was always on the lookout for what was best for them, selflessly putting them and their interests before her self.
If you watch the film, one of the first things you'll notice when watching the film is its unique and captivating art style. Every scene features something different. Completely different character designs, constantly changing scenery, something happening in the background. The film is eye-catching, both with its story and also in the literal sense with its bouts of brightly-colored neon.
Related Posts