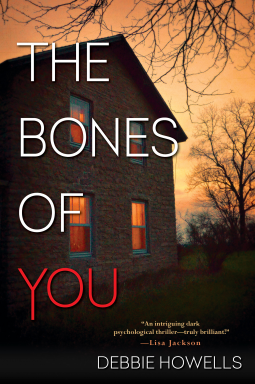 Title:

The Bones of You

by Debbie Howells
Published by
Kensington
Released:
June 30th 2015
Genres:
Fiction
,
Mystery & Detective
,
Psychological
,
Suspense
,
Thriller
Length:
320
Format Read:
eARC
Links:
Goodreads
|
Amazon
|
Barnes & Noble
|
ThriftBooks
My Rating:

Disclosure: I received a complimentary copy of this book from NetGalley. This does not affect my opinion of the book in any shape or form.
A stunning, wonderfully assured psychological thriller that evokes Gillian Flynn and Alice Sebold, The Bones of You revolves around a young girl's murder and one woman's obsession with uncovering the secrets in an idyllic English village.

I have a gardener's inherent belief in the natural order of things. Soft‑petalled flowers that go to seed. The resolute passage of the seasons. Swallows that fly thousands of miles to follow the eternal summer.

Children who don't die before their parents.

When Kate receives a phone call with news that Rosie Anderson is missing, she's stunned and disturbed. Rosie is eighteen, the same age as Kate's daughter, and a beautiful, quiet, and kind young woman. Though the locals are optimistic—girls like Rosie don't get into real trouble—Kate's sense of foreboding is confirmed when Rosie is found fatally beaten and stabbed.

Who would kill the perfect daughter, from the perfect family? Yet the more Kate entwines herself with the Andersons—graceful mother Jo, renowned journalist father Neal, watchful younger sister Delphine—the more she is convinced that not everything is as it seems. Anonymous notes arrive, urging Kate to unravel the tangled threads of Rosie's life and death, though she has no idea where they will lead.

Weaving flashbacks from Rosie's perspective into a tautly plotted narrative, The Bones of You is a gripping, haunting novel of sacrifices and lies, desperation and love.
I haven't read many psychological thrillers, but The Bones of You caught my eye so I figured I'd give it a shot. I'm glad I did. In this novel an eighteen year old girl named Rosie goes missing, then several days later she's found dead in the woods, stabbed and beaten. There are a couple suspects, Rosie's secret boyfriend and her father, however there is not enough incriminating evidence to have them charged with the murder of Rosie.
Kate, who has a daughter of her own that's Rosie's age, feels for Joanna, Rosie's mother. Throughout the story she sympathizes with her, helps her through this incredibly tough time, and from time to time tends to Jo's other daughter, Delphine. Over time family secrets come to light, revealing that the family once thought to be picture perfect isn't all that they seem to be. Delphine is distant and quiet, Jo has her ups and downs, and her husband has a dark side.
I completely hated Neal, Jo's husband. Never have I disliked a character as strongly as I did him. He's abusive/masochist/controlling/psycho. And even with that, Joanna refuses to leave him, too much is at stake because she loves him. Grr. The things you do for love, I guess.
Although I much more prefer fast paced action thrillers, The Bones of You was a nice change of scenery to dip into the psychological thriller part of the genre. I found the story decent, and I really, really loved the writing style. It was a little poetic at times, and I very much liked how in-between chapters there were memories from Rosie as told by her ghost, or even the infrequent thought from Delphine's point of view rather than Kate's. Slowly but surely, the secrets were seeping through the cracks, being revealed little by little. All in all, I found this to be an enjoyable read.
Related Posts