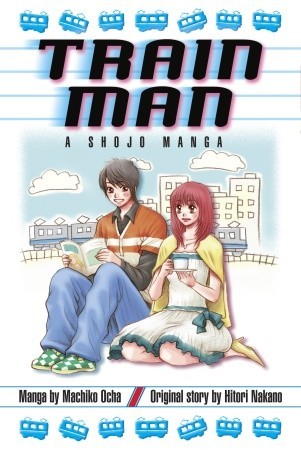 Title:

Train Man

by Machiko Ocha
Published by
Del Rey/Ballantine Books
Released:
November 7, 2006
Genres:
Comics & Graphic Novels
,
Manga
Length:
179
Format Read:
Paperback
Links:
Goodreads
|
Amazon
|
Barnes & Noble
|
ThriftBooks
My Rating:

LONELY HEARTS UNITE! Geeky fanboy Ikumi Saiki has a dream that someday, somehow, he'll finally get a girlfriend. Then one day, on the train home, he rescues a beautiful girl from a troublesome drunk. Now the girl sees the hero inside the otaku–and it appears that Ikumi will finally find romance! But though Ikumi found the courage to save her, how will he ever be brave enough to win her heart? Desperate, Ikumi posts an urgent plea on an Internet message board: "Help me win the girl of my dreams!" Ikumi's story ignites the whole online world. Everyone is ready to help Ikumi prove that even an otaku can find true love!
When I was at my local library a couple of months ago I was looking at their (relatively small) manga collection, when a certain title caught my eye: Train Man. To anyone else this title would mean absolutely nothing to them, but to me it does: my first ever online username was Trainman1405, a name I still go by sometimes even to this day. I picked it up off the shelf, sat down in a chair at a nearby table, and began reading it since my mom was doing shopping at the nearby Costco before she came to pick me up. I was planning on checking it out from the library if my mom came to pick me up before I finished it, but by pure luck I finished a couple of minutes before she arrived.
Train Man is a one-off manga novel about otaku (the Japanese word for fanboy) Ikumi Saki who is on a train home when he spots a woman being harassed by a drunk man. Somehow Ikumi manages to muster the courage to tell the drunk to leave her alone. She thanks him. Later, once at home, Ikumi posts on a popular online message board soliciting advice on how he can win the girl of his dreams, the one he saved from harm on the train. Over the course of the story it progresses as he continues soliciting advice on the message board from the thousands of others following his journey on what to do in order to achieve the girl of his dreams. You'll see the relationship between him and the girl grow, and also how Ikumi goes from being a shy and quiet boy to a man with confidence.
It's a fun and pretty quick read you can knock out, however I did not enjoy it tons. I just didn't care for the way it felt it jumped around a lot without warning, causing me to have to re-read a few bits.
If you're interested, you can read more about Train Man on Wikipedia and how it's become a book, movie, and even a television show.
Related Posts