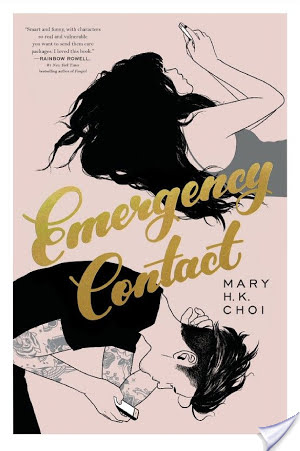 Title:

Emergency Contact

by Mary H. K. Choi
Published by
Simon and Schuster
Released:
March 27th 2018
Genres:
Contemporary
,
Dating & Sex
,
Friendship
,
Romance
,
Social Themes
,
Young Adult
Length:
400
Format Read:
Hardcover
Links:
Goodreads
|
Amazon
|
Barnes & Noble
|
ThriftBooks
My Rating:

For Penny Lee high school was a total nonevent. Her friends were okay, her grades were fine, and while she somehow managed to land a boyfriend, he doesn't actually know anything about her. When Penny heads to college in Austin, Texas, to learn how to become a writer, it's seventy-nine miles and a zillion light years away from everything she can't wait to leave behind.

Sam's stuck. Literally, figuratively, emotionally, financially. He works at a café and sleeps there too, on a mattress on the floor of an empty storage room upstairs. He knows that this is the god-awful chapter of his life that will serve as inspiration for when he's a famous movie director but right this second the seventeen bucks in his checking account and his dying laptop are really testing him.

When Sam and Penny cross paths it's less meet-cute and more a collision of unbearable awkwardness. Still, they swap numbers and stay in touch—via text—and soon become digitally inseparable, sharing their deepest anxieties and secret dreams without the humiliating weirdness of having to see each other.
Being one with a bunch of online friends, and even having met a couple of them, the concept of Mary H.K. Choi's novel Emergency Contact intrigued me as the plot centers on two college aged adults who talk to each other only though the phone.
Unfortunately, the synopsis was the most intriguing part of the book until the last quarter of it when things finally felt a bit interesting to me, and even then I wasn't pulled into the story very much.
I don't want to rehash the synopsis too much, but here's the plot if I were to summarize it:
Penny's off to college at UT – 80 miles away from home – and she's thankful she can get a breath away from her mother. After moving in she goes to a local cafe with her roommate and her friend, where she meets Sam, who works there. They hit it off but because Sam is the uncle of Jude – it's complicated – it'd be wrong for them to be a little too friendly with on another. One day Penny runs into Sam out in public and they become "emergency contacts" – a person you can talk to in a time of crisis. This friendship, both general talk, sharing their daily problems and aspirations, stays inside their phones with plenty of back and forth texting, but feelings between the two are developing.
The story flips with each chapter being told from Penny's point of view, then Sam's, repeat.
It just…didn't do it for me. It wasn't exciting. Didn't care for the characters. Didn't care for the pace of the plot. Didn't care for how the plot was told. The last quarter of the book got interesting only due to drama with Penny. If the drama hadn't happened I would have even less to say about the story.
And the ending…I THINK I understand what happened on the last couple pages, but it took reading it a few times to make sense of it. Personally I didn't care for how it wasn't obvious, unless it's obvious to everyone but me.
Related Posts