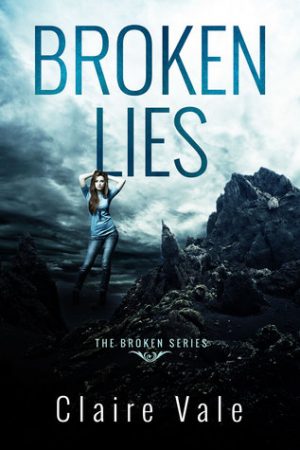 Title:

Broken Lies

by Claire Vale
Series: Broken Series #1
Published by
CreateSpace Independent Publishing Platform
Released:
February 26, 2015
Genres:
Dystopian
,
Love & Romance
,
Young Adult
Length:
278
Format Read:
eBook
Links:
Goodreads
|
Amazon
|
Barnes & Noble
My Rating:

Disclosure: I received a complimentary copy of this book from NetGalley. This does not affect my opinion of the book in any shape or form.
Scientists predicted it would take seventy years for the Arctic Shelf to completely melt. In the end, it took less than five. We lost thirty percent of our land to the oceans and a big chunk of our structure to panic and anarchy.

The Melt crippled us.

But it was the Arctic Virus at the bottom of The Melt, trapped for millennia in the darkest depths of ice strata, that broke us. The real flood was the Living Corpses. A population of billions turned to soulless, rabid shells within months. That's what washed away the human race as we know it.

Born into a post-apocalyptic world, Lake has grown up in the last city standing. Governed by what used to be the Queen's Cold Stream Guard, vaccinated against the threat, life in Windsor City is both harsh and fair. The rules are designed to strengthen the city and ensure survival.

Lake's future is planned out with opportunities and unfair advantages and then there's Ash—her best friend and hopefully more. Things could be worse, considering she's living past the end of days. And, sometimes, she could definitely do with being a better person, which was what drafting into the Guard for two years of service was supposed to be about.

But she has no idea what she's signed up for. The city is more vulnerable than she'd ever imagined, on its knees at the mercy of a megalomaniac organisation, and she's just been chosen to pay the price.
I've got mixed feelings on this book. I didn't care much for the first half, and mostly enjoyed the remaining half. I liked it but didn't, such as to the point where it's difficult to decide if three or four starts is more fitting since I don't do half stars. In the end, I think three stars is the better fit.
Don't get me wrong, I did enjoy this opener to the Broken Lies series. It has some good moments. It's a decent dystopian novel, it's just that for the first 40-or-so percent I didn't really care for the book. I felt like I didn't really know what direction the book was heading in for the overall plot/conflict. Luckily though, after the somewhat bland beginning, things picked up and got more exciting.
Yes, it's a dystopian novel, and yes, there are zombies. But it wouldn't be fair to say that zombies are the main part of this novel, as they aren't. I'd say this book is sort of like Attack On Titan meets The Walking Dead. There's a wall built around the city with creatures trying to get inside (Attack On Titan) and then there's the living zombies trying to infect you. (The Walking Dead). It's a good mix.
Let me backtrack a little bit and explain the plot: the Arctic Shelf melted due to global warming, with thirty percent of land being lost as a consequence. Nobody was prepared, as it took just five years to melt instead of the predicted seventy.
Stuck in the ice for millions of years was the Arctic Virus, a virus that makes you exactly what they're called: a Living Corpse. The virus spread across the globe, and Windsor City, where this book takes place, is the last standing city according to Lake. In Windsor City you are governed by a set of rules to ensure survival, and the Guard works to keep out intruding Living Corpses, or LCs for short.
Lake, who is the main character, is in love with her best friend Ash. Ash drafted into the Guard for two years to learn skills and keep his city safe. She longs for his return, waiting patiently…then decides to join the Guard herself, one year into Ash's draft. From there her world turns upside down. There's the expected teenage drama amongst Lake, Ash, and the rest of her friends. Some I expected. Some, especially at one turning point in the novel, I definitely did not.
I'd say that the book's main focus, once the basics are laid out in the first half, would be training and preparations for whatever future missions these soldiers in training are assigned to. If I said any more I'd spoil things, so I'll keep my mouth shut.
There's romance throughout plus a handful of twists, especially as it gets towards the end. I didn't know what to expect as I delved into the story, but I'm mostly happy with the outcome once the main conflict was revealed later in the book. Even though I have mixed feelings about the book, I am still looking forward to book two and will be reading it once it's out. Plus, I mean, with a cliffhanger ending there's no way I can't know what happens next!
If this book interests you, I'd also recommend the Legacy series by Ellery Kane, which is also a young adult dystopian/romance mix. You can find my review of book one here.
Related Posts