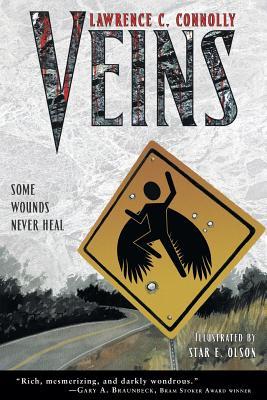 Title:

Veins

by Lawrence C. Connolly
Published by
Fantasist Enterprises
Released:
May 14th 2014
Genres:
Contemporary
,
Crime
,
Fantasy
,
Fiction
,
General
,
Supernatural
,
Suspense
,
Thriller
Length:
260
Format Read:
Paperback
Links:
Goodreads
|
Amazon
|
Barnes & Noble
|
ThriftBooks
My Rating:

Disclosure: I received a complimentary copy of this book from Goodreads. This does not affect my opinion of the book in any shape or form.
Fleeing from what should have been a perfect crime, four crooks in a black Mustang race into the Pennsylvania highlands. On the backseat, a briefcase full of cash. On their tail, a tattooed madman who wants them dead.The driver calls himself Axle. A local boy, he knows the landscape, the coal-hauling roads and steep trails that lead to the perfect hideout: the crater of an abandoned mine. But Axle fears the crater. Terrible things happened there. Things that he has spent years trying to forget. Enter Kwetis, the nightflyer, a specter from Axle's ancestral past. Part memory, part nightmare, Kwetis has planned a heist of his own. And soon Axle, his partners in crime, and their pursuer will learn that their arrival at the mine was foretold long ago... and that each of them is a piece of a plan devised by the spirits of the Earth.
They weren't kidding when they say Veins is a non-stop thrilling action ride. I had trouble putting the book down beginning at page one. The descriptions, style of writing incorporating mythology, and the illustrations throughout were all great. Veins is the first of three books in the Veins Cycle. The other two, Vipers and Vortex, are on my to-read list.
Reddy, Tejay, and Spinelli plan to rob a strange man who calls Bird. Every week Bird drives his SUV to the local gentleman's club with a briefcase containing upwards of $100,000. The plan is to rob him while in transit, then get the heck out of there. There's a problem though, the trio needs a fast and reliable car. In comes Axle, who offers his Mustang's services. When it's time for the heist, unsurprisingly, Murphy's law strikes. Things don't go as planned, and the group gets a more than they bargained for. Throughout the journey of trying to save their asses, they all learn about a prophecy told by the spirits of the Earth.
Based on reading the first book in the trilogy I would say that the series is severely underrated. It's a unique tale, as it's a type of story that has not been overdone by countless writers. Add in the mythology and spiritual elements and you've yourself got a home run.
Related Posts