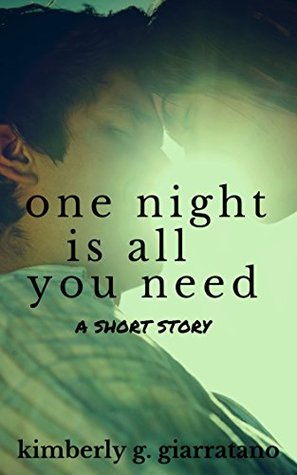 Title:

One Night Is All You Need (A Short Story)

by Kimberly G. Giarratano
Also by this author:
Grunge Gods and Graveyards
,
Dead and Breakfast
Published by
Kimberly G. Giarratano
Released:
March 4, 2015
Genres:
Paranormal
,
Romance
,
Short
,
Young Adult
Length:
21
Format Read:
eBook
Links:
Goodreads
|
Amazon
|
Barnes & Noble
My Rating:

Disclosure: I received a complimentary copy of this book from the author. This does not affect my opinion of the book in any shape or form.
After Margot Green helps move her older sister into the University of Miami dorms, she just wants to go home to New Jersey where she can wallow in her loneliness. Unfortunately for Margot, her parents decide to extend their trip to the Florida Keys where they sign up for a kooky tour of historic Key West. Margot is horrified to have to traipse around hotter-than-Hades Old Town with her embarrassing parents until she meets Sam, an enigmatic local, who convinces her to embark on a spooky adventure that will inevitably lead to discovery and heartache.

ONE NIGHT IS ALL YOU NEED is a 5,000-word YA short story that will appeal to both romance and mystery fans.
I'm not one to read short stories, in fact the only other short stories I've read are the readings we have to do in English class from time to time. I've got nothing against them, it's just I'm more of one to tune into full blown novels with all the meat.
Back in June I raved about Kimberly's book Grunge Gods and Graveyards because I absolutely loved it. So as any reader would do if they love a book, I looked up the rest of her work and discovered this short story and a few other works by her, some of which I added to my TBR pile.
This short story features Margot, a teenager who is in Florida with her parents, as they were all helping her older sister move into her dorm at the University of Miami. Margot's parents decide to go on a tour of Key West, dragging Margot alone. Here she meets Sam, a local who she runs off with in the middle of a tour in hope of some adventure.
The story was quick, the story was fun, and even though it was short it had some plot twists to it. I enjoyed it very much, although I wish there was just a little more action to it, although since it's a short story I know it's difficult to do. I felt as if just as soon as the book started it stopped, although isn't that kind of the point of short stories? I'd definitely read a full-length novel featuring Margot and Sam.
The eBook is a free download, so go check it out if it interests you!
Related Posts