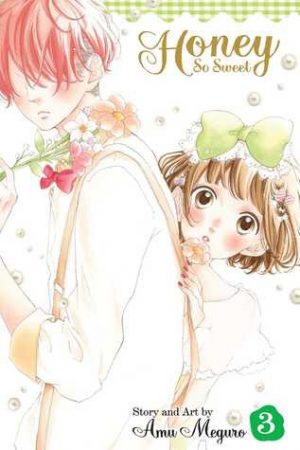 Title:

Honey So Sweet, Vol. 3

by Amu Meguro
Series: Honey So Sweet
Also in this series:
Honey So Sweet, Vol 1
Published by
Viz Media
Released:
July 5th 2016
Genres:
Comics & Graphic Novels
,
Manga
,
Romance
Length:
216
Format Read:
Paperback
Links:
Goodreads
|
Amazon
|
Barnes & Noble
|
ThriftBooks
My Rating:

Little did Nao Kogure realize back in middle school that when she left an umbrella and a box of bandages in the rain for injured delinquent Taiga Onise that she would meet him again in high school. Nao wants nothing to do with the gruff and frightening Taiga, but he suddenly presents her with a huge bouquet of flowers and asks her to date him-with marriage in mind! Is Taiga really so scary, or is he a sweetheart in disguise?

Although Nao Kogure was once afraid of the delinquent Taiga Onise, she was soon touched by his kind soul. Nao and Taiga have been dating for two months, but Taiga's best friend Ayaha Futami decides he wants to steal Nao away, and he's not making a secret of it!
Last summer I read the first two volumes of Honey So Sweet as they were the only ones available at the time, and now that more English translations have since been published I went ahead and got them through my library to read, as I'm really liking the series now.
The third volume in the Honey So Sweet series is cute and funny just like the first two. Volume three also had more pacing and was a lot more interesting compared to the prior volumes. The third volume also brings in conflict, introducing the feeling of jealousy between a character and Nao, as a guy, Futami, is basically trying to be Mr. Steal Yo Girl.
Other things I really liked about the third volume were the random doodles on the margins, the bonus short story of Nao and Sou at the end, and this sentence from the manga: "Just because you're friends doesn't mean you get to know everything about someone".
As for volume four, it opens with Futami, who I like to call Mr. Steal Yo Girl, realizing that he cannot steal Nao from Onsie no matter what he does and says. To quote Futami, "Being liked by someone is joyful and painful". Indeed it is. Another memorable quote from this volume is "Loving someone who feels the same way about you must be a miracle of sorts". This volume also had what I feel to be a bit more of a darker tone to it, for example Nao's friend Yashiro didn't mind that her boyfriend was caught cheating on her. SERIOUSLY?
Also in volume four I learned what an Asunaro hug is and I also laughed really hard at the very short special story at the end of volume four. It exclaims "The end to a pointless story!" and I found that pretty funny. There's also a funny line in this volume: "Will you go out with me….yes or yes?!" There's also small bonus manga at the end too, "Honey So Sweet: A Tale of a Small Love".
I'd say that so far volume four is my favourite. There's more twists and the characters are developed more as you see their feelings and hidden sides. Plus it was less kissy-kissy, which was refreshing to me. I don't mind romance, but I felt that the earlier volumes were overdoing it a little bit.
Volume five is now out, and I am currently waiting for my library to get a copy of it so I can read it.
Related Posts