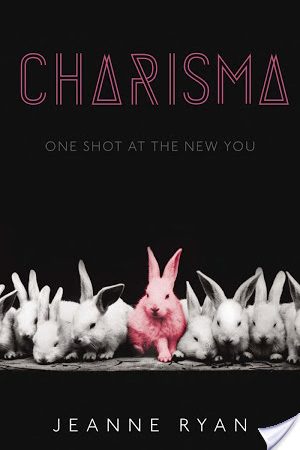 Title:

Charisma

by Jeanne Ryan
Published by
Penguin
Released:
March 3rd, 2015
Genres:
Action & Adventure
,
Self-Esteem & Self-Reliance
,
Social Themes
,
Young Adult
Length:
384
Format Read:
Hardcover
Links:
Goodreads
|
Amazon
|
Barnes & Noble
|
ThriftBooks
My Rating:

A chance at the ultimate makeover means deadly consequenes in this Sarah Dessen-meets-Robin Cook thriller

Aislyn suffers from crippling shyness—that is, until she's offered a dose of Charisma, an underground gene therapy drug guaranteed to make her shine. The effects are instant. She's charming, vivacious, and popular. But strangely, so are some other kids she knows. The media goes into a frenzy when the disease turns contagious, and then deadly, and the doctor who gave it to them disappears. Aislyn must find a way to stop it, before it's too late.

Part medical thriller, part social justice commentary, Charisma will have readers on the edge of their seats.
I saw Nerve when it was in theaters last summer, and because it's based off Jeanne Ryan's second book I went ahead and picked her first book, Charisma, up from the library. It's about a girl named Aislyn who has crippling social anxiety. She's offered an underground gene therapy drug named Charisma by a doctor she trusts. She's told that Charisma will get rid of her shyness and make her one who stands out – on the condition that she tells nobody. After some internal debate, she goes ahead and takes it. There's a problem, though. She's not the only one who was given the drug, and others who have taken it have fallen into comas. The doctor who created and administered Charisma is now conveniently nowhere to be found.
While I realize that this book came before Nerve, I found the two to have rather similar plots. A girl is shy (Charisma) or is said to be boring (Nerve). They fix this by taking a drug (Charisma) or playing an extreme game (Nerve). But neither the drug in Charisma or the game in Nerve is perfect, and things go wrong and have to be fixed as soon as possible. Such striking similarities in how the story line developed between the two was a bit of a turn off for me. Story wise, I also felt that Charisma was rather predictable in its writing, another turn off.
Even with Charisma's predictability in mind, I enjoyed story. I liked seeing Aislyn grow as a person when you compare who she was at the beginning of the story and who she was at the end. The only other main character there really was in this story was Shane. The others who were given Charisma weren't overly involved in the book; I feel they should have been made a little more important in the plot other than the fact that they received the drug and were now in comas. I also liked the ethical issues Charisma brings up regarding gene therapy. Is it okay to take a drug to make yourself a better person? Sure, there's things like antidepressants to help you feeling better about yourself, or ADD to help nip those symptoms, but the drug in Charisma is a whole different level since it alters your actual genes to makes you more confident, more social, and more popular. Or what about altering some other genes? Should we really modify who we are, just because we can? It's something to think about.
If you had the opportunity to take Charisma without any side effects, would you? While surely tempting, I'd be one to decline. We all have flaws and that's what makes us human. We aren't meant to be perfect people.
Related Posts