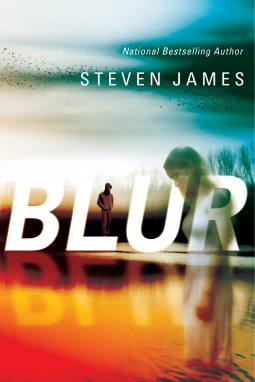 Title:

Blur

by Steven James
Series: Blur Trilogy #1
Also in this series:
Fury
,
Curse
Also by this author:
Fury
,
Curse
Published by
Skyscape
Released:
May 27th 2014
Genres:
Action & Adventure
,
Mystery & Detective
,
Paranormal
,
Thriller
,
Young Adult
Length:
348
Format Read:
eBook
Links:
Goodreads
|
Amazon
|
Barnes & Noble
|
ThriftBooks
My Rating:

Disclosure: I received a complimentary copy of this book from NetGalley. This does not affect my opinion of the book in any shape or form.
The isolated town of Beldon, Wisconsin, is shocked when a high school freshman's body is found in Lake Algonquin. Just like everyone in the community, sixteen-year-old Daniel Byers believes that Emily Jackson's death was accidental. But at her funeral, when he has a terrifying vision of her, his world begins to rip apart at the seams. Convinced that Emily's appearance was more than just a mere hallucination, Daniel begins to look carefully into her death, even as he increasingly loses the ability to distinguish fantasy from reality. What's real? What's not? Where does reality end and madness begin? As Daniel struggles to find the truth, his world begins to crumble around him as he slips further and further into his own private blurred reality. Full of mind-bending twists and turns, Blur launches a new trilogy of young adult thrillers from Steven James, a master of suspense.
High school freshman Emily Jackson was found dead in Lake Algonquin. According to an autopsy it was an accidental drowning. At her funeral when looking inside her coffin, Daniel Byers has a vision, which he and his friend eventually call blurs. In his blur Emily grabs his arm and says to him "Trevor shouldn't have been in the car", followed by "Find my glasses" before slumping back into her casket. Daniel announces to the funeral attendees that she's alive…then passes out. Was her death really an accident, or did someone kill her? And what are these blur sensations Daniel is having? It's up for him to figure out what's real, what's not, and what the heck is going on.
I'm really glad I discovered the Blur trilogy. I love thrillers and I love young adult books, so this was the best of both worlds for me. Blur has a great plot and is filled with unexpected twists and adrenaline pumping action as Daniel and his friends Kyle, Nicole, Mia, and Stacy work to find clues and decipher them, all under his dad's nose since he promised he would stop snooping around Emily's death. And why is Stacy avoiding Daniel so much, not showing up at homecoming and ignoring his texts?
Because I was so immersed in this book, I knew halfway through it that I had to go ahead and get the sequel, it was that good. I couldn't put the book down, I had to keep on reading to see what was going to happen next. It was mysterious, intriguing, and heart pounding. The Blur trilogy is a home run hit and I'm happy to say it is now one of my favorite series.
Related Posts