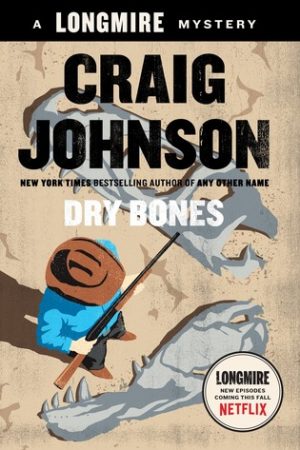 Title:

Dry Bones

by Craig Johnson
Series: Walt Longmire #11
Published by
Penguin
,
Viking
Released:
May 12th 2015
Genres:
Fiction
,
Mystery & Detective
,
Westerns
Length:
320
Format Read:
eARC
Links:
Goodreads
|
Amazon
|
Barnes & Noble
|
ThriftBooks
My Rating:

Disclosure: I received a complimentary copy of this book from NetGalley. This does not affect my opinion of the book in any shape or form.
In the latest installment of Craig Johnson's New York Times bestselling Longmire series, Wyoming's beloved lawman takes on his coldest case yet. When Jen, the largest, most complete Tyrannosaurus rex skeleton ever found surfaces in Sheriff Walt Longmire's jurisdiction, it appears to be a windfall for the High Plains Dinosaur Museum - until Danny Lone Elk, the Cheyenne rancher on whose property the remains were discovered, turns up dead, floating face down in a turtle pond. With millions of dollars at stake, a number of groups step forward to claim her, including Danny's family, the tribe, and the federal government. As Wyoming's Acting Deputy Attorney and a cadre of FBI officers descend on the town, Walt is determined to find out who would benefit from Danny's death, enlisting old friends Lucian Connolly and Omar Rhoades, along with Dog and best friend Henry Standing Bear, to trawl the vast Lone Elk ranch looking for answers to a sixty-five million year old cold case that's heating up fast.
Apparently Longmire is not just a TV show that ran for three seasons on A&E and is now coming to Netflix for a fourth, but also a book series. I feel kind of silly for not previously knowing that the TV show is based off a series of books and not some random series pitched to A&E, but hey, it happens. And, as it turns out, I'm not as much of a Longmire fan I'd thought I be.
While the Longmire novels are standalone, it probably would have helped if I was previously familiar with the characters as I'd understand a bit more about their lives and what happened in the previous books. In Dry Bones the skeletal remains of a Tyrannosaurus rex are found. Not just any T. Rex though, but Jen the T. Rex – the most complete one found to date. The remains are found on Cheyenne Danny Lone Elk's ranch, and he later turns up dead in a turtle pond. Suddenly it's a huge clash due to the money at stake, groups and organizations claiming ownership of Jen, and even the government intervenes. It's up to Longmire to figure out why Danny ended up dead and whether or not the discovery of the dinosaur remains is related to his death. With lots of people potentially benefiting from his death, it's no easy case to solve.
I thought I was going to really enjoy Longmire, but the book never pulled me in. I love the geographical setting (the midwest is an awesome place) and the writing flow was superb. The characters are all unique and I like the small touch of historical fiction the book encompasses, but even with all those great aspects in the book I never felt immersed in the story. It never really drew me in. I enjoyed it enough that I could easily finish the book, but I just never found it all that interesting. The book didn't have as much action or excitement in the plot as I was hoping for, so it just really fell flat.
I'm sure that if I read the other books in the series I'd have enjoyed Dry Bones at least a little bit more since I'd be familiar with Longmire's past adventures, but alas that can only be slightly beneficial and not completely turn around my opinion of the series.
Did I like Dry Bones? Yes, a little bit. I didn't love it, and I didn't hate it, hence my 3/5 rating. It was just "meh" to me. But for the hardcore Longmire fans out there, I'm sure that this addition to the Longmire series is a huge win.
Related Posts