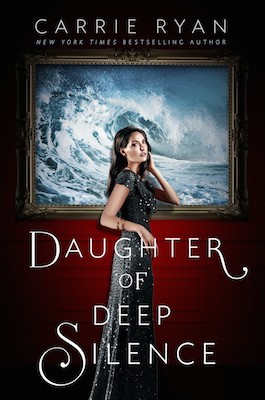 Title:

Daughter of Deep Silence

by Carrie Ryan
Published by
Dutton Books for Young Readers
,
Penguin
Released:
May 26th 2015
Genres:
Action & Adventure
,
Death & Dying
,
Family
,
Love & Romance
,
Orphans & Foster Homes
,
Survival Stories
,
Young Adult
Length:
384
Format Read:
ARC
Links:
Goodreads
|
Amazon
|
Barnes & Noble
|
ThriftBooks
My Rating:

Disclosure: I received a complimentary copy of this book from the publisher. This does not affect my opinion of the book in any shape or form.
I'm the daughter of murdered parents. I'm the friend of a dead girl. I'm the lover of my enemy. And I will have my revenge. In the wake of the devastating destruction of the luxury yacht Persephone, just three souls remain to tell its story—and two of them are lying. Only Frances Mace knows the terrifying truth, and she'll stop at nothing to avenge the murders of everyone she held dear. Even if it means taking down the boy she loves and possibly losing herself in the process. Sharp and incisive, Daughter of Deep Silence by bestselling author Carrie Ryan is a deliciously smart revenge thriller that examines perceptions of identity, love, and the lengths to which one girl is willing to go when she thinks she has nothing to lose.
I've got a new book in my top three favorite reads of all time. Daughter of Deep Silence is my favorite book of 2015 so far. The story opens with Frances Mace being rescued by Cecil O'Martin. She'd been afloat on a life raft with her friend Libby after the cruise ship they were on, the Persephone, was attacked by gunmen. Unfortunately Libby didn't survive their time adrift at sea, dying a mere hours before her father rescues Frances. This means the only survivors were Frances, Senator Wells, and his son Gray. The Wells, however, claim it was a rogue wave that took down the ship, and not gunmen. Why would they be lying? Obviously nobody would believe Frances if she claimed they weren't telling the truth, it's their word against hers. Because Frances lost all her family in the attack and Cecil lost his beloved daughter, he comes up with the idea of her assuming Libby's identity and Frances being the one listed as dead. Although crazy, she accepts his offer. From there she spends the next several years plotting revenge on the Wells family for lying about the attack.
Me when I find out Frances is 14 when she's being rescued: what the heck, how is that a 14 year old on the cover? :/
Me when I reach a few chapters into the story and see that it jumps ahead four years: …oh
The story follows Libby O'Martin aka Frances who has taken over her identity as she works her way towards revenge against the Wells and exposing the truth to the public about what really happened on the Persephone four years ago. Frances has worked meticulously over the years between assuming Libby's identity and creating her plan for revenge. She's picked up Libby's habits, read her journals over and over to know everything there is to know about her, the works. Aside from a few small bodily differences, there'd be no way to know it wasn't the true Libby. Frances is no more, she's Elizabeth "Libby" O'Martin. She also spent those four years researching the Persephone and the lives of the Wells, looking for any connecting pieces or any possible motives. She knows just how she can take advantage of them in her plan of revenge.
In short, Libby/Frances has so much knowledge under her belt that she knows how to use it against others and hurt them deeply. She's super manipulative in her plan, all for what she thinks is a good reason. After all, who wouldn't want to expose the truth about a catastrophic event that flipped their life upside down? She thinks she has her plan laid out perfectly, but there's a few unforeseen circumstances, variables she didn't think of or take into consideration. For one, even under Libby's identity she's falling for Gray Wells, just like she did when she was Frances on the cruise ship all those years ago. Will she be able to hold herself together and expose the truth before the secret about her identity is exposed?
I absolutely loved this story. Seriously, I loved this novel so much. It was pretty much perfect. I loved how the epilogue ended, it gave me a few feels. My only gripe about the story is that I felt it was a little repetitive with Francis talking about how she felt, but it was only a minor annoyance. I know she's trying to get the point across about how she feels, but I felt that the same thing was being said one or two times too many. I can't rave about the book enough. Seriously, you need to go read it!
Related Posts