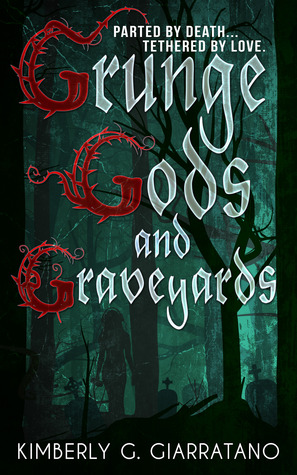 Title:

Grunge Gods and Graveyards

by Kimberly G. Giarratano
Also by this author:
One Night Is All You Need (A Short Story)
,
Dead and Breakfast
Published by
Red Adept Publishing
Released:
June 2nd 2014
Genres:
Love & Romance
,
Mystery & Detective
,
Paranormal
,
Supernatural
,
Young Adult
Length:
302
Format Read:
eBook
Links:
Goodreads
|
Amazon
|
Barnes & Noble
|
ThriftBooks
My Rating:

Disclosure: I received a complimentary copy of this book from NetGalley. This does not affect my opinion of the book in any shape or form.
Parted by death. Tethered by love.

Lainey Bloom's high school senior year is a complete disaster. The popular clique, led by mean girl Wynter Woods, bullies her constantly. The principal threatens not to let her graduate with the class of 1997 unless she completes a major research project. And everyone blames her for the death of Wynter's boyfriend, Danny Obregon.

Danny, a gorgeous musician, stole Lainey's heart when he stole a kiss at a concert. But a week later, he was run down on a dangerous stretch of road. When he dies in her arms, she fears she'll never know if he really would have broken up with Wynter to be with her.

Then his ghost shows up, begging her to solve his murder. Horrified by the dismal fate that awaits him if he never crosses over, Lainey seeks the dark truth amidst small town secrets, family strife, and divided loyalties. But every step she takes toward discovering what really happened the night Danny died pulls her further away from the beautiful boy she can never touch again.
Grunge Gods and Graveyards is a hidden gem in the young adult genre. There's nothing I didn't dislike about it, and almost everyone who has read it speaks highly of it. Quite frankly, I'm glad I discovered the book. It has a bit of everything: mystery, paranormal, and some dash of romance.
Although they were never more than friends, Lainey mourns the death of her friend Danny after he was struck and killed by a vehicle in a hit and run. Add the fact that she's picked on in school, may not graduate with the rest of her class, and that her dad is suddenly being strict and enforcing rules left and right, one can only imagine the stress she's under. One day when she's hanging out around Danny's house and sees his ghost, she questions if it's really him or if it's a hallucination. Not wanting to let Danny down, she works to dig up secrets on what really happened that night he was killed. Was it really an accident, or is there more to it?
One thing I'm really picky about (which could be because I'm a guy) is when books overdo the whole romance thing, constantly saying how much they ache for their significant other, how they make them feel on fire, the whole nine yards. Luckily for me, this book didn't overdo it – at all. Sure, the reader can clearly see how much Danny means to Lainey throughout the book, but that much is to be expected.
Another thing I really enjoyed about the book is the setting. It takes place in the 90s, when grunge was a very popular genre. Throughout the book you'll see bands and songs from the era mentioned. The book also, of course, has no cell phones, and only briefly mentions a computer – specifically Lainey's dad's, which she isn't allowed to touch. I was born in 1995 so I don't really consider myself a true '90s kid since I was so young, but even so, the story taking place in the past, back when things were a little more simple, makes a nice setting and a change from what I'm used to reading.
Finally, there's the characters. I found all of them to be really relatable and the dialogue definitely something teenagers would say, something I would say. The occasional swearing, the awkwardness, the hating people in high school. I absolutely loved the part where Lainey was about to tell everyone during lunch over the microphone to go eff themselves. Here's a gem from the story. For the record, Liz is Lainey's older sister who flunked out of college:
"I do have news," Liz said.
"You're not pregnant, are you?" Dad asked, his fork suspended in midair.
Liz looked horrified. "Ew! No."
Everyone let out a collective sigh.
Liz crossed her arms. "Seriously. Is that what you all expected me to say?"
"Well…" My voice trailed. Uncle Mike nodded.
As you can see, this novel has it all. There's also a spinoff novel, told from another character. I'll definitely be reading that sometime soon since I loved this story so much.
Related Posts