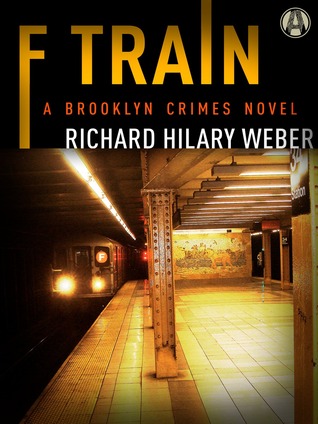 Title:

F Train

by Richard Hilary Weber
Series: Brooklyn Crimes #1
Published by
Random House Publishing Group - Alibi
Released:
June 23rd 2015
Genres:
Crime
,
Fiction
,
Mystery & Detective
,
Suspense
,
Thriller
,
Women Sleuths
Length:
174
Format Read:
eARC
Links:
Goodreads
|
Amazon
|
Barnes & Noble
In a fast-paced thriller perfect for readers of Kathy Reichs and Linda Fairstein, dedicated Brooklyn cop Flo Ott unravels the mystery of a terrifying mass murder—from the cold underbelly of New York to the city's glittering heights.

Beneath Brooklyn's wintry streets, seven people are dead, slumped in their seats on an F train. Fast thinking and good fortune prevent the subway car doors from opening, spilling poisonous gas into the station. It's not long before a frightened metropolis of eight million demands answers: If this was an act of terror, where will these cruel killers strike next?

NYPD detective Flo Ott looks closely at the victims. Each of their stories leads to another, one more colorful and complex than the last. A few of these quintessential New Yorkers catch Flo's attention: a mysterious off-duty FBI agent and the beautiful woman next to him, who may have been his lover. Then there's a Russian mobster with more than his fair share of enemies.

As Flo battles false leads, conflicting witnesses, and meddling politicians, her investigation delves into the dark side of the city that never sleeps. Flo becomes convinced that this wasn't a random act of violence, and she fears something much worse may be rumbling down the tracks.
The book's synopsis is what piqued my interest, as it's not your typical murder. All the murder books I've read usually involve a gun or knife, whereas this one has to do with a poisonous gas in a subway car. Pretty original if you ask me.
The Brooklyn Crimes series follows Flo Ott, a NYPD detective. In this book she and her colleagues are trying and figure out who gassed the subway car. It follows them as they meet up with the families of the victims and their investigation work. It felt really dull, as it was just questioning and looking up a few leads. No real action. Just blandness. In the middle of the book I almost wanted to give up, but I don't like leaving a book unfinished so I continued onward until the very end.
The first 25% of the book seemed interesting. Then the next 50% was really dull. Then for the final 25% it picked up again. Even though the final 25% was decent, overall still felt "meh" to me. The person who committed the crime wasn't even mentioned until very late into the book, then suddenly they are caught and it's over. There's hardly anything leading up to these final moments, all of a sudden they seem to finally have a lead and bam! Case closed.
The other thing I didn't like about this is that I felt it over-described some things. For example, when Frank, a colleague of Flo's, is in an antiques shop:
"Incredulous, Frank picked his way gingerly around mound after musty mound of Japanese trunks and samurai swords, cracked porcelain chamber pots, pillars of Delft blue china, stuffed bears, an entire aviary of deceased parrots under a great glass bell, mounted swordfish, stags' heads, British brass, French crystal, German and Danish and English silver, Venetian carnival masks, stamps, coins, old paper money collections, trays of medals from forgotten wars, framed stock certificates of long-defunct companies . . ."
It just goes on, and on, and on, and on. I felt like it was going to list each and every single item! A few is fine, 15+ is not.
To sum things up briefly, I liked the unique murder, but other than that it was dull and not for me.
Related Posts