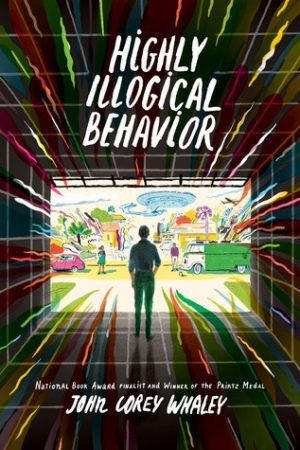 Title:

Highly Illogical Behavior

by John Corey Whaley
Published by
Penguin
Released:
May 10th 2016
Genres:
Depression & Mental Illness
,
Friendship
,
LGBT
,
Social Themes
,
Young Adult
Length:
256
Format Read:
Hardcover
Links:
Goodreads
|
Amazon
|
Barnes & Noble
|
ThriftBooks
My Rating:

Teen and adult fans of "All The Bright Places," "Me and Earl and the Dying Girl," and "Everything, Everything"will adore this quirky story of coming-of-age, coming out, friendship, love...and agoraphobia. Sixteen-year-old Solomon is agoraphobic. He hasn't left the house in three years, which is fine by him. Ambitious Lisa desperately wants to get into the second-best psychology program for college (she's being realistic). But how can she prove she deserves a spot there? Solomon is the answer. Determined to fix Sol, Lisa thrusts herself into his life, sitting through Star Trek marathons with him and introducing him to her charming boyfriend Clark. Soon, all three teens are far closer than they thought they d be, and when their walls fall down, their friendships threaten to collapse, as well. A hilarious and heartwarming coming-of-age perfect for readers of Matthew Quick and Rainbow Rowell, "Highly Illogical Behavior" showcases the different ways we hide ourselves from the world and how love, tragedy, and the need for connection may be the only things to bring us back into the light."
Highly Illogical Behavior is one of the more unique books I've read, since it's not every day you encounter a book where the main character has agoraphobia, which is the fear of crowded spaces or enclosed public places. In fact, the protagonist, Solomon, hasn't left his house in three years. He has no friends and plans on keeping things this way for the rest of his life.
Or so he thought. One day a girl named Lisa who went to his old school before he switched to homeschooling stumbled across an ad for a dentist Solomon's mom worked at. She questioned if it was his mother, as she was curious what become to him, so she made an appointment for a checkup at the dentist.
Unlike Solomon, Lisa has plans that don't involve staying at home for the rest of her life. With college nearing she wants to get into the second best psychology program, but needs a killer essay to guarantee her acceptance into it. She decided she will work with Solomon so she can fix him and write all about the experience in the essay. After the dentist appointment it's agreed by everyone that she can visit Solomon and hang out for a while. Solomon and the rest of his family don't know a thing about the essay, though. They all think she wants to be Solomon's friend with no hidden agendas of any sort.
As with any scenario, an idea such as Lisa's is much more easier said than done, with all kinds of road blocks along the way. It was a fun read, even humorous at times, and I enjoyed seeing Lisa, her boyfriend Clark, and Solomon all grow closer together as friends. I felt that the ending of this story was really good, everything came together in a way I didn't quite expect. I thought it was very clever, so props to John Corey Whaley for that. If you liked Will Grayson, Will Grayson by John Green, I think you'll like Highly Illogical Behavior too.
Related Posts