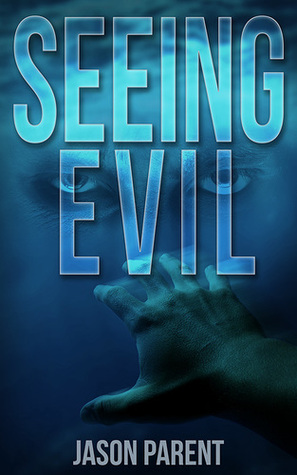 Title:

Seeing Evil

by Jason Parent
Published by
Red Adept Publishing
Released:
July 13th 2015
Genres:
Crime
,
Horror
,
Paranormal
,
Suspense
,
Thriller
,
Young Adult
Length:
234
Format Read:
eBook
Links:
Goodreads
|
Amazon
|
Barnes & Noble
|
ThriftBooks
My Rating:

Disclosure: I received a complimentary copy of this book from the publisher. This does not affect my opinion of the book in any shape or form.
Fate in plain sight.

Major Crimes Detective Samantha Reilly prefers to work alone—she's seen as a maverick, and she still struggles privately with the death of her partner. The only person who ever sees her softer side is Michael Turcotte, a teenager she's known since she rescued him eleven years ago from the aftermath of his parents' murder-suicide.

In foster care since his parents' death, Michael is a loner who tries to fly under the bullies' radar, but a violent assault triggers a disturbing ability to view people's dark futures. No one believes his first vision means anything, though—not even Sam Reilly. When reality mimics his prediction, however, Sam isn't the only one to take notice. A strange girl named Tessa Masterson asks Michael about her future, and what he sees sends him back to Sam—is Tessa victim or perpetrator?

Tessa's tangled secrets draw Michael and Sam inexorably into a deadly conflict. Sam relies on Michael, but his only advantage is the visions he never asked for. As they track a cold and calculating killer, one misstep could turn the hunters into prey.
It's been a while since I've been unable to put down a book or put off sleeping just so I could read more. Seeing Evil was able to make me do such a thing, however, so I think that gives you a decent idea on just how good it was.
The book's first few chapters cover different characters and their struggles, and while they are seemingly unrelated at first as the book progresses these people and plots intertwine and become a single plot. The book opens with Michael as a baby and his parents being killed in a murder-suicide, which is why Samantha Reilly, the detective who was at the scene of that crime, watches over Michael and keeps in touch all these years later when he's a teenager. She may not be his foster parent but she is still someone that Michael looks up to and goes to sometimes when he needs comforting.
One day Michael has a vision that his new friend Jimmy (the circumstances they met are definitely unusual but you'll have to read the book to find out how!) is going to shoot the school bully. He goes to Sam and tells her about it, but naturally she's skeptical. However, once what Michael saw in his vision actually happens at his school one day, she believes him and puts his skill to the test. Naturally rumors about Michael and his ability begin to circulate the school.
Enter Tessa, a girl who hears about Michael's ability. She's dealing with plenty of her own issues so she goes to Michael and asks him what he sees in her future, if anything. What he sees spooks him out and is unsure what to think of this girl. Tessa is hiding a lot from everybody, but is there more than meets the eye?
Sam relies on Michael's new ability to see evil doings in the future to track down a killer who will stop at nothing to ensure his world is perfect – literally.
That should give you the gist of what the book's about, but there's so much more to it I'd love to talk about but don't want to spoil anything crucial. It's better if you read this book and see for yourself.
The book was both morbid and even upsetting at times with how some of the characters were being treated by others. Descriptions and imagery were not only on extremely point but also nauseating, disgusting, terrifying, and even saddening. Some people in this world are truly evil and this book spared no expense at capturing how these types of people act. All I have to say is…wow. This aspect of the book definitely left me speechless and feeling so terribly sorry for what they (the character) had to endure. The ending was great, too. I was happy with how things came to a closing point.
I'd say that about does it for this review. I definitely need to keep an eye on Jason Parent's future works. If you like thrillers, especially ones that will make you squirm and are so suspenseful that you cannot stop reading it, you need to pick this one up ASAP.
Related Posts