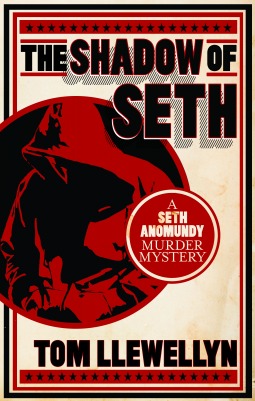 Title:

The Shadow of Seth

by Tom Llewellyn
Series: A Seth Anomundy Murder Mystery #1
Published by
Poisoned Pencil
Released:
August 4th 2015
Genres:
Mysteries & Detective Stories
,
Young Adult
Length:
174
Format Read:
ARC
Links:
Goodreads
|
Amazon
|
Barnes & Noble
|
ThriftBooks
My Rating:

Disclosure: I received a complimentary copy of this book from the publisher. This does not affect my opinion of the book in any shape or form.
Sixteen-year-old Seth Anomundy is a product of his environment: in this case, Tacoma, Washington. What L.A. was to Chandler, Tacoma―a working-class port city now undergoing urban renewal―is to author Tom Llewellyn. Seth has grown up in Tacoma's tough neighborhoods, where he's perfectly at home in Choo-Choo's boxing gym and Miss Irene's soul food palace, the Shotgun Shack. With his mom working nights as a cleaner, Seth goes to high school, gets decent grades, and makes money where he can: filling in as cook at the Shotgun Shack, working as a sparring partner, and running errands for Nadel, the clock repairman. Life is hand-to-mouth, but okay―until he gets the news that his mother has been killed. The police don't care about the death of just another drug addict, so a bewildered Seth takes it upon himself to find the killer. On a clock delivery run, he meets a beautiful rich girl named Azura Lear, who encourages Seth and tries to help track down the killer. But instead of finding answers, Seth finds only trouble. He faces down a gang of baseball-bat-wielding high school jocks and deals with the contempt of Azura's suspicious father. And then there's King George―a teenage thug Seth has previously managed to avoid―who has for some reason let it be known that he wants Seth dead. Right now.
She left. It was the last time I'd ever see her alive.
Growing up I read a lot of Hardy Boy books, I was always checking them out from the library and buying my own at Borders. I may have moved on to adult thrillers, however I found reading The Shadow of Seth to be refreshing, as it's the middle ground between mystery books for children and mystery books for adults.
Being young adult, the mystery was simple and a quick read. That's not a bad thing — the story flowed very well. In this story sixteen year old Seth Anomundy is awoken in the middle of the night to the news that his mother has been murdered. Since he's old enough to fend for himself, he decides he'll look for the killer himself since the police don't seem too concerned about his mother's death In the beginning of the story Seth is doing a clock pickup for Nadel, a clock repairman, when he meets a girl named Azura. The two are complete opposites: Seth is poor and Azura is loaded with cash. You know how the saying goes: opposites attract. The two end up as friends, although Seth is convinced she'll leave him at many minute because she's everything he isn't.
Although Azura is a center character in the book, I felt that she wasn't fully tethered to the plot, almost as if her role wasn't that important and she wasn't really needed and just thrown in as a bonus. That's not *completely* true, however. I'd expand upon what I mean by that but it'd involve spoilers, which nobody is a fan of. In short, Azura is indirectly related to a part of the story but at the same time I felt that her role wasn't concrete and she herself was sort of "fluff" added. I also felt that the first exchange of dialogue between Seth and Azura was kinda awkward and unrealistic, but it's brief and their future conversations in the book were completely fine.
That was the only thing I didn't like about the story. Everything else about it was great! I enjoyed going back to my roots and reading a mystery for younger audiences. Although the mystery isn't too advanced or hardcore, it still keeps your attention and had me turning the pages. I enjoyed going back to my original reading roots with a mystery for younger readers. The noir aspect was a nice touch, too. Seeing how the tagline for the story is "A Seth Anomundy Murder Mystery", I hope there's more to come!
Related Posts