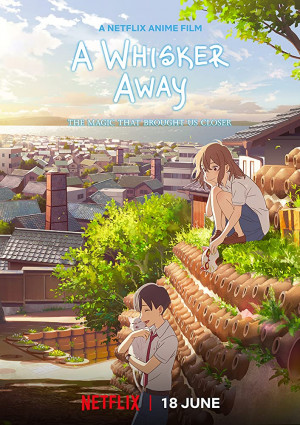 Title:
A Whisker Away (Nakitai Watashi wa Neko wo Kaburu/泣きたい私は猫をかぶる)
Released:
June 18, 2020
Genres:
Adventure
,
Animation
,
Anime
,
Family
Length:
1 hour, 44 minutes
Links:
IMDB
|
Wikipedia
My Rating:

A peculiar girl transforms into a cat to catch her crush's attention. But before she realizes it, the line between human and animal starts to blur.
Originally going to be released in theaters in Japan in early June, Studio Colorido's A Whisker Away had its theatrical release pulled due to COVID-19. Netflix instead acquired the film, releasing it on their streaming platform a couple of weeks after its previously-scheduled theatrical date. While English subtitles were available at the time for interested audiences such as myself, an English dub of the film was also added a little over a week later.
2020 has been a fun year for anime films in North America. There's been Weathering With You, as well as 2019's Ride Your Wave and Children of the Sea having also received or are soon receiving their North American release. I saw both Weathering and Ride in theaters earlier this year, but Children of the Sea was one that was unfortunately pulled due to COVID-19. Unlike the two I saw in theaters this year, Whisker seems to instill more of a lesson and positivity on viewers.
Studio Colorido previously brought us Penguin Highway, and in their second feature-length film it's the story of middle-schooler Miyo Sasaki, who has a crush on her classmate Kento Hinode. She's always going out of her way to make herself known to him, even though he's continuously rejecting her advances and gestures. To cope with her sadness of rejection, she puts on a magical mask she got from a mysterious person that transforms her into a cat named Taro. When in her cat form she'll visit Hinode at his home. He's none the wiser to this ruse that the cat that keeps appearing every day after school is Miyo transformed. Hinode finds comfort in Taro as does Taro in Hinode. As much as Miyo wants to tell him the truth of her feelings and that she's Miyo, she can't find the strength.
After an extra-embarrassing encounter at school, Miyo decides life is better as a cat. At home, she puts on the mask and runs away. The seller of the mask appears and entices her that she can permanently become a cat in exchange for a mask of her human face, as cats can also transform into humans in the same way humans can transform into cats. She impulsively agrees. To make the transformation complete and irreversible, she'll have to go to a special ceremony.
With Miyo now missing, in cat form, she watches her friends as they look for her and starts to feel regret in her decision to permanently become a cat. As the story advances, her strength and courage build up as she works to stop the mask seller from permanently making her a cat. Along the way, she's joined by some friends, both old and new, who are there for her. It's in this race against time that she learns people truly do care about her.
At face value, Whisker is an endearing anime film about a girl with the magical ability to turn into a cat as she pleases and tries to win the love of a boy she has an immense crush on. However, what it's really is about is a girl who uses turning into a cat as her coping mechanism, catfishing Hinode along the way, even though her intentions are pure. She's faking her happiness with a constant smile on her face and emitting laughter around her schoolmates while internally struggling with feelings of abandonment and bullying but ultimately discovers that those who are close to her look up to her and care about her. My one main gripe with this film is that in the beginning, Miyo seemed too into Hinode, like an unhealthy obsession. Nonetheless, Whisker redeems itself with its off-putting romantic introduction in the first third of the film and winds up delivering a heartwarming ending, even though its message that friends are there to support you in your moments of weakness is not made clear until the film's final moments.
Related Posts