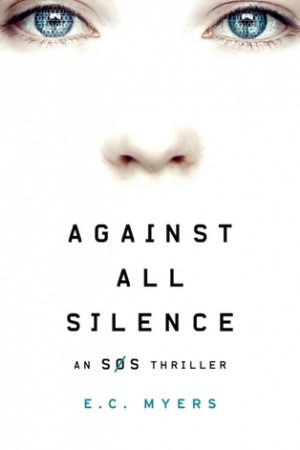 Title:

Against All Silence

by E.C. Myers
Series: SOS #2
Also in this series:
The Silence of Six
Also by this author:
The Silence of Six
Published by
Adaptive Books
Released:
August 23, 2016
Genres:
Computers & Digital Media
,
Science & Technology
,
Social Issues
,
Suspense
,
Thriller
,
Young Adult
Length:
368
Format Read:
ARC
Links:
Goodreads
|
Amazon
|
Barnes & Noble
|
ThriftBooks
My Rating:

Disclosure: I received a complimentary copy of this book from the publisher. This does not affect my opinion of the book in any shape or form.
After being a key figure in the exposing of government corruption, Max Stein has spent a quiet semester abroad in Paris, studying, staying off the Internet, and looking for his long-lost mother. But just as he is about to fly back to the United States for the holidays, trouble manages to find him once again.

Max receives a call from Penny, his on-again-off-again girlfriend who is part of the expert hacking duo DoubleThink. She wants him to meet with Ada Kiesler, a high-profile whistleblower hiding out at a foreign embassy in Berlin. Max has no interest in getting drawn into another corporate conspiracy. But when airport security suddenly detains him on suspicion of cyber-terrorism, he has little choice but to get involved. Soon Max and Penny are tangling with a new group of shadowy figures who are determined to control how the world shares its information. And some figures from Max s past resurface, including his own mother, whose life has mirrored his own in more ways than he'd realized.

In this action-packed follow up to "The Silence of Six," Max and his hacker friends must fight to expose a corrupt corporation that has been systematically taking control of the Internet."
If you've been reading Devin's Book Hub for a while now, you may recall me reviewing The Silence of Six by E.C. Myers about a year and a half ago, after winning a copy of the novel via a Goodreads giveaway. I was fortunate enough to receive an advance copy of the upcoming sequel, Against All Silence, which will be available next week.
Just like the first book in the series, it is jam-packed with action. This time, however, the stakes are even higher. The story takes place where the previous one ended: after everything that went down with Panjea, Max went on a trip to France to get away from the media and let things cool down for a bit.
While waiting in line at the airport to go home a few days before Christmas, he decides to check his private email, which is where he sees a several day old email from his friend Penny, one of the members of his hacking group, Dramatis Personai. She says that she is in Berlin and would like him to meet her new friend, Ada Kiesler, who is a whistleblower. Instantly I thought of Edward Snowden and his whistleblowing, which I'm guessing heavily influenced Myers when writing this. Ada had leaked thousands of confidential documents relating to Verbunden Telekom, an internet provider, to Den Fenster, a popular news website. Verbunden Telekon, or VT for short, had the documents wiped from the internet and the news story retracted within 24 hours. In fact, VT owns 73% of the internet and 45% of cloud storage, an obvious monopoly. Ada thinks that there is even more to the picture, such as both funding or running a dangerous website on the deep web known as "The Curtain", which is sort of like an eBay but for instead of your everyday items you can purchase exploits, hire hitmen, sell women for sex, or even for buy drugs amongst other things. The Curtain has over $80 billion annual revenue, so it's definitely a hot spot for criminals. Ada wants Max and Penny to figure out what exactly is going on, who is behind it, and also put an end to VT controlling such a vast majority of the internet, as the telecom is abusing its power with censorship on the internet.
After checking the email and getting ready to board the flight, Max is detained at the airport on suspicion of being a cyberterrorist, which doesn't make much sense to him because he had sworn off that after all that happened in the previous book. By "coincidence", he misses his flight, meaning he can now meet with up Penny and Ada in Berlin and see what's going on rather than simply flying home and forgetting he was even asked to come visit.
One thing I really like about the Silence of Six series is that Max and I share a lot in common. We're both computer geeks and the book states he is considering an IT major which is what I just recently changed my major to. The book also nailed why I had decided to change my major from computer science to information technology:
Computer science in college is like the difference between reading a book for fun and having it assigned in class.
Seriously, he hit the nail on the head with that quote! You have no idea how much that sentence spoke to me.
There's also few other cool and somewhat unique aspects to Against All Silence:
-The host family Max stayed with is comprised of two mothers and their son Enzo. And no, the two mothers thing isn't being shoved down your throat. I actually didn't catch it the first time, partially because I had no idea if Ophélie is a male or female name.
-It references Reddit AMAs (ask me anything), Silk Road, I2P, and there's even a doge reference: "Much hot, very kissing. Wow."
– I didn't know what a flame cake (tarte flambée) was until reading this book. Now I want one. Badly.
As for what actually happens with VT in the book, I'll let you read it and see for yourself. Once you start it, just like with the first book, you're not going to want to put it down.
I feel like I did enjoy the first book a little more, however don't get me wrong, the sequel doesn't fall flat in the least bit. It's still extremely thrilling and places you directly in Max's world from the get-go.
Against All Silence does end at a good spot, meaning it could possibly be the end of the series, (not that I want it to be) however I'd say there is potentially room for a third book, but not that it's exactly needed, as there aren't any major loose ends needing to be tied up still. Max's and Penny's adventures are, after all, far from being over.
Also, it's worth noting that if Amazon is your go-to for books, you're out of luck. Adaptive Books, the publisher, has a deal with Barnes and Noble where they get exclusive distribution of their titles for the first six months, meaning it cannot be ordered from Amazon until February 2017. And trust me, you do not want to wait that long to get this book.
Related Posts