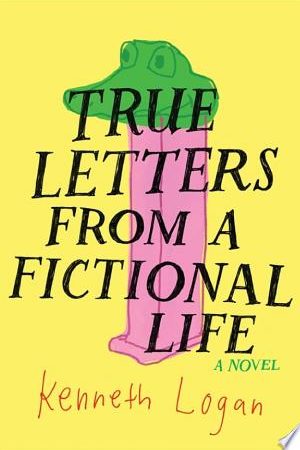 Title:

True Letters from a Fictional Life

by Kenneth Logan
Published by
HarperCollins
Released:
June 7th 2016
Genres:
Bullying
,
Friendship
,
LGBT
,
Social Themes
,
Young Adult
Length:
336
Format Read:
ARC
Links:
Goodreads
|
Amazon
|
Barnes & Noble
|
ThriftBooks
My Rating:

Disclosure: I received a complimentary copy of this book from the publisher. This does not affect my opinion of the book in any shape or form.
If you asked anyone in his small Vermont town, they'd tell you the facts: James Liddell, star athlete, decent student and sort-of boyfriend to cute, peppy Theresa, is a happy, funny, carefree guy.

But whenever James sits down at his desk to write, he tells a different story. As he fills his drawers with letters to the people in his world—letters he never intends to send—he spills the truth: he's trying hard, but he just isn't into Theresa. It's a boy who lingers in his thoughts.

He feels trapped by his parents, his teammates, and the lies they've helped him tell, and he has no idea how to escape. Is he destined to live a life of fiction?
This book has been through a lot when I have it on me. It's been the novel I read when I'm on the bus into the city of Philadelphia to pass the time. Once or twice during these journeys I've forgotten an umbrella, so the book, residing in my backpack, has been soaked in multiple downpours while I wait for the bus in the pouring rain. The book is very much well worn, but it's also been very much been loved.
In True Letters from a Fictional Life we have James Liddell, who is a high school student, star athlete, and dating Theresa. James likes to write letters to people – his parents, his brother, his friends, whomever — but without the intention of the recipient actually receiving any letters James may write them. Rather, writing these letters is an outlet for James to convey his thoughts, relieve anger and frustrations, and to figure out what's going on his head.
Who James is and what he writes about are opposite at times. James may be with Theresa, but he's been coming to terms that he's not into her. Not her specifically, but girls in general. This is no easy thing to admit, especially having to come to terms with it and publicly admit to people.
As the school year goes on, the time is ticking before people find out, and not from him, the way it should be. He has to stop lying and escape his fictional real life so who he is on paper is who he can be in person.
Personal thoughts wise, I really enjoyed the book. It's a great coming of age young adult story where we see James' highs and lows. I'm happy with how the novel ended. I closed the book with a smile on my face, as I really enjoyed the final few lines. I'll have to get a new copy at some point to replace my water damaged one, at this is one I want to keep for the years to come. I hope Logan continues to write novels, as currently this is his only one.
Related Posts