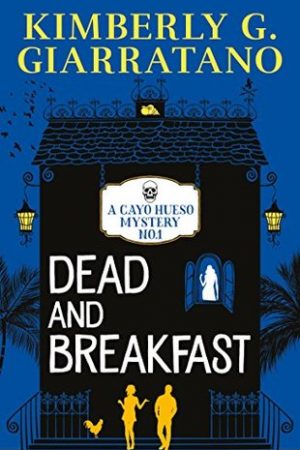 Title:

Dead and Breakfast

by Kimberly G. Giarratano
Series: A Cayo Hueso Mystery Book 1
Also by this author:
Grunge Gods and Graveyards
,
One Night Is All You Need (A Short Story)
Published by
Kindle Press
Released:
March 22, 2016
Genres:
Mystery
,
Paranormal
,
Supernatural
,
Young Adult
Length:
288
Format Read:
eARC
Links:
Goodreads
|
Amazon
|
Barnes & Noble
|
ThriftBooks
My Rating:

Disclosure: I received a complimentary copy of this book from the author. This does not affect my opinion of the book in any shape or form.
Despite living in Key West his whole life, 18-year-old Liam Breyer is a skeptic of the supernatural until a vengeful spirit, murdered fifty years ago, nearly drowns him in a swimming pool. Luckily help arrives in the form of pretty — albeit homesick — ghost whisperer Autumn Abernathy, whose newly-divorced mom has dragged her to the island to live and work at the Cayo Hueso, a haunted bed and breakfast.

Although they initially mistrust each other, Autumn and Liam team up to solve the decades-old mystery. But on an island where every third resident is a ghost, dealing with an unstable spirit has deadly consequences. If Liam and Autumn don't unmask the killer soon, they're likely to become Key West's latest haunted attraction.
It's been a while since I've published a book review — about five and a half months. I've been in a bit of an unannounced hiatus mixed with a large reading slump, so I've been taking a break from book blogging to focus on other things. While I'm still not done with my break, I was recently asked by Kimberly Giarratano if I wanted to review her new YA mystery Dead and Breakfast. Seeing how much I loved her book Grunge Gods and Graveyards as well as her One Night Is All You Need short story, it was a no brainer that I'd be open to doing it! I still need to get around to reading The Lady In Blue by her, but I'll get to that some other time…
If it isn't obvious already, Kimberly loves to write young adult stories involving the paranormal. Dead and Breakfast, as you might be able to interpret from the title, is no different. Just like her other stories this one is also all about the paranormal, plus just like One Night Is All You Need the story takes place in Florida, albeit with different characters.
The story opens with 18 year old Liam, a Key West native, cleaning the water of the pool at Cayo Hueso, a bed and breakfast that's haunted. Liam, however, doesn't believe in ghosts. Even when attacked and nearly drowned in the pool by a spirit, he still refuses to believe and chalks it up to being attacked by a cat.
There is also Autumn, a ghost whisperer, who is Liam's age. She's been living at Cayo Hueso with her mom now that her parents are divorced and her mother moved to Key West from New Jersey. She hates it down south until her mother hires Liam to temporarily work at the Cayo Hueso, when her general attitude towards life changes. She's less bitter towards her mother for turning her life upside down now that she's fallen for Liam, and she no longer yearns to go back home to Jersey – she just wants to be with him.
Cayo Hueso is failing to turn a profit, however,and Autumn's mother is sinking everything she's got into it to keep it afloat – including Autumn's college funds. Naturally this infuriates Autumn, however, she comes up with a plan: she can investigate the ghost that's trying to harm Liam and solve a decade old mystery, write about it, and hopefully win a big college scholarship to make up for the money she no longer has.
Dealing with the paranormal is definitely no easy task, and the fact that the spirit is unstable makes it all the more difficult. Will the two be able to solve the mystery of who's haunting Liam and why?
Just like Kimberly's previous books that I've read, this one is also another page turner. The pacing is perfect, as it never feels sluggish or like the story is being rushed. This book isn't quite as thrilling or as exhilarating as I tend to like my mysteries to be, but I'm being a little picky with saying that because not every book can be that way, plus it's not a bad thing since the book still keeps you hooked and continuously turning the pages to find out what happens next.
Just like with Kimberly's novel Grunge Gods and Graveyards there is some romance between the two main characters. I didn't feel it was completely necessary to include in this story, but at the same time it is kind of expected that sparks will fly between two teenagers who just met and are going through some rough times. Dead and Breakfast doesn't mull over the romantic connection, however, it's only a little side thing included in the story while Liam and Autumn work to solve the mystery at hand, which is how I prefer romance be handled in most cases. Most guys aren't exactly big on reading excessive romance. There's no sex scenes or anything like that, in fact with the exception of only 3-5 swear words the book is completely clean.
There's also something I love about the ending of certain books: when the author choses the perfect combination of words for the final sentence. It's what I think of as the perfect closing line to a story. Kimberly totally nailed that final sentence with this story, so props to her on ending it so well.
To summarize the above, yes, this is most certainly a book you want to check out if you enjoy young adult mysteries! Based on the fact that "A Cayo Hueso Mystery" is in the book's title you probably assume that this is going to be a series, and you're right! It sounds like there will be at least two more books in the series, so I'm definitely looking forward to those. Kimberly G. Giarratano is definitely an author you want to keep on your book radar.
Related Posts