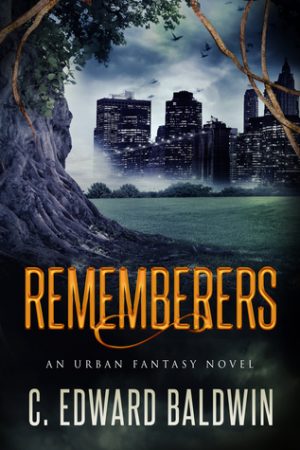 Title:

Rememberers

by C. Edward Baldwin
Series: Rememberers #1
Also by this author:
Fathers House
Published by
Ink-Stone Publishing
Released:
June 1, 2015
Genres:
Fantasy
,
Thriller
Length:
350
Format Read:
eARC
Links:
Goodreads
|
Amazon
|
Barnes & Noble
|
ThriftBooks
My Rating:

Disclosure: I received a complimentary copy of this book from Storycartel. This does not affect my opinion of the book in any shape or form.
For 19-year-old Kallie Hunt, everyday moments began feeling all too familiar. She had a sense that she'd lived them before. But that was crazy, right? Deja vu. That was kid's stuff, right? Been there, done that, impossible. You got one shot at this life thing. One shot. You lived. You died. End of story.

But if that was true, then why would the government be interested in her? Why would priests literally be stalking her? How could a small town girl possibly have anything to do with saving humanity from terrorists and demons? And pray-tell, what does any of it have to do with her first love?

For Kallie Hunt, there would be no simple answers. Besides, nothing in life is ever really simple. Not good. Not evil. Not even love...

Rememberers, taking urban fantasy to a whole new level.
In Rememberers, 19-year-old Kallie Hunt has been experiencing deja vu sensations. She feels like she's lived through a moment before, and can "see" what happens before it actually happens. But how is that possible? Is something wrong with her? And why is the government and a few priests be following her around, telling her she needs to save the world from demons? Things are about to get weird…
Having recently read Fathers House by C. Edward Baldwin, I figured I would give his new book Rememberers a shot.
Overall, the story was alright. It was a bit of a page turner, but didn't feel meaty enough to me. The book's concept was intriguing: time is a cycle rather than linear like we think it is, so she has already lived through the moment before, and she is recalling a previous life. As the book advances, Kallie and her friends find out more about this and what exactly both the government and the priests want from her. Who's telling the truth to her, and who's lying?
Aside from that, though. it was meh. I felt distant from the characters, they weren't super developed. I didn't think the book was boring, but it wasn't extremely exciting either, hence why I say it didn't feel meaty enough.
While not necessarily Christian fiction, the novel does incorporate God and some pieces of religion, although it is in no way forcing a religion upon the reader. It's just all part of the plot, which makes sense to me and it isn't a turn off of any kind. I have seen a few gripes about that, which is a little head scratching to me, but hey – whatever floats the reader's boat.
Rememberers will be getting a sequel next year as it is part of a series, so I look forward to checking that when it's out. Hopefully I find it a big more engaging and thrilling than this one.
Also, if you're interested, you can enter to win one of five copies of the book over at Goodreads. The contest ends May 31st.
Related Posts