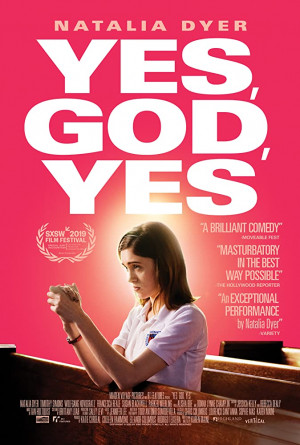 Title:
Yes, God, Yes
Released:
July 24, 2020
Genres:
Comedy
,
Coming of Age
,
Drama
Length:
1 hour, 18 minutes
Links:
IMDB
|
Wikipedia
My Rating:

After an innocent AOL chat turns racy, a Catholic teenager in the early 00s discovers masturbating and struggles to suppress her new urges in the face of eternal damnation.
Released at the end of July in virtual cinemas after having some limited screenings before COVID-19 struck, Karen Maine's second screenplay is based on a short film of the same title produced by her several years prior, just like her other film Obvious Child. Yes, God, Yes is coming of age film that takes an intimate look at sexual awakening and Catholicism, and unlike Child, she's also the director. The film challenges the hypocrisy and double standards while also offering a positive message in a film that's both accurate and slightly satirical, perfectly capturing the Catholic school environment and all that comes with it.
The film takes us back to 2001, back when the internet was the wild west and people would go on AOL chat rooms filled with strangers. Restrained by Catholicism and being afraid she'd go to Hell, sixteen-year-old Alice (Natalia Dyer) shies away from most things of sexual nature, though she is guilty of watching the sex scene in Titanic multiple times. One day when on an AOL chat room things turn a little racy when a stranger wants to cyber. This unlocks a new world for her, though she feels guilty and afraid because she's been taught her whole life that anything involving sex outside of marriage is wrong. Wanting to redeem herself and be forgiven for her sinful behavior, Alice signs up for her school's retreat, Kirkos, led by Father Murphy (Timothy Simons). It's on this retreat that she's exposed to more than she bargained for, struggling to come to terms with things she's witnessed on the retreat, further fueling her confusion as she's being told one thing but seeing another. It's through an unlikely person that she's able to open her eyes for the first time and see everything from a different perspective.
I first caught wind of this film earlier this year when it was having a one-time screening in Philadelphia. Due to work obligations, I wasn't able to attend, so I was excited when I saw it would be screening in virtual cinemas this summer. I remember when I first saw a trailer for the film I felt a little weird and dirty after, like it's a film about a sixteen-year-old discovering masturbation, even though Dyer is the same age as I am. While that is a part of the overall story arc, what I discovered watching the film is that it is far from the main point and Maine's film does not over-sexualize Dyer's character. We've all been teenagers and while some may pretend sex doesn't exist for those in that age bracket, it's a naïve and ignorant view. The film helps to normalize such things. After all, teenage years is the time your body begins to change and you begin to be exposed to such things, such as in health class. (though being a Catholic school, in Alice's case, it's taught by Father Murphy and gives a very limited look into such things).
When the film opens, you're instantly met with a banjo song praising the Lord: "Have you been to Jesus for his cleansing power", then shows students at school getting reprimanded for infractions such as not wearing a belt and a skirt being two and a half inches above the knee. It was at that moment I knew it was going to be an entertaining film. Yes, God, Yes does not mock religion, though it does perfectly capture the Catholic sentiment of its views and, even including some cheesy lines such as "Don't worry, you won't be needing a watch this weekend anyway because… you're on Jesus' time!" and "We pretended each marshmallow was a different mortal sin before burning it", which sound exactly like something a teenager would hear at a retreat. Clocking in a little over an hour at 78 minutes, the film does still packs an important message: "The truth is, nobody knows what they're doing any more than the rest of us. We're all just trying to figure out our shit." It's a story of finding your identity and exploring not just your body, but who you are as a person.
Related Posts