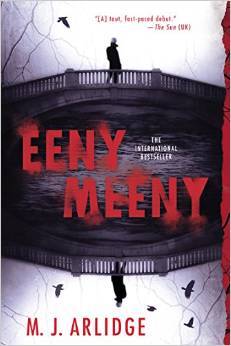 Title:

Eeny Meeny

by M. J. Arlidge
Series: Helen Grace #1
Published by
Penguin Group USA
Released:
June 2nd 2015
Genres:
Crime
,
Fiction
,
Suspense
,
Thriller
Length:
432
Format Read:
eARC
Links:
Goodreads
|
Amazon
|
Barnes & Noble
|
ThriftBooks
My Rating:

Disclosure: I received a complimentary copy of this book from NetGalley. This does not affect my opinion of the book in any shape or form.
Two people are abducted, imprisoned, and left with a gun. As hunger and thirst set in, only one walks away alive.

It's a game more twisted than any Detective Helen Grace has ever seen. If she hadn't spoken with the shattered survivors herself, she almost wouldn't believe them.

Helen is familiar with the dark sides of human nature, including her own, but this case—with its seemingly random victims—has her baffled. But as more people go missing, nothing will be more terrifying than when it all starts making sense....
This book is so sick and twisted.
I loved it.
The book immediately gets your heart pumping, beginning with a real life Saw-like scenario: two friends are placed someplace they are unable to escape, such as a deep, empty pool or an abandoned factory. In the room is a gun. Your ticket out? Kill the other person, and the survivor is set free. How sick and twisted is that? You're not given food or water. You're stuck there over the span of at least a few days, resisting the urge to kill the other person. There's no contact with the outside world. People won't know where to find you. Then finally, one of the two snaps, picks up the gun, and shoots the other person. It can be a friend, a coworker, even your significant other. The abductor who snatches up the two people to play the "game" doesn't even watch or do the killings.
Enter Helen Grace, the main detective on the case. At first it seems like it's just an atypical serial killer, but as this scenario pops up more than once, she delves into the clues and information to figure out the ultimate motive of the person orchestrating the game of "eeny meeny".
This book has to be one of my favorite crime/thriller novels. It's far from your run of the mill mystery. It's sickening at times, will make you feel disgusted, and yet you won't be able to put the book down. M.J. Arlidge has such a way with writing an enthralling crime novel, so enthralling that I firmly believe that Eeny Meeny and the rest of the Helen Grace series would make a great crime drama on television. That's how good it is. I'm already eagerly awaiting the second novel to be published in October and third novel to be published next year in February…and I'm also quite jealous that the next two books are already available overseas. I had read the preview for the second Helen Grace novel, Pop Goes The Weasel, and even after the several chapters teaser I was hooked.
Related Posts