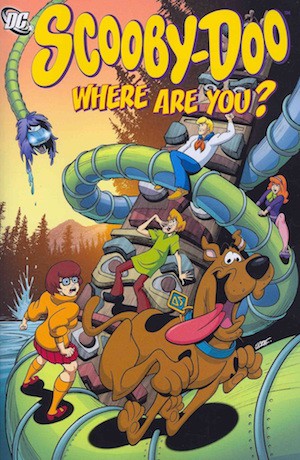 Title:
Scooby-Doo Where Are You
Published by
DC Comics
Released:
April 3rd 2012
Genres:
Comics & Graphic Novels
Format Read:
Paperback
Links:
Goodreads
|
Amazon
|
Barnes & Noble
|
ThriftBooks
My Rating:

Follow the classic kid detectives Scooby, Shaggy, Fred, Velma and Daphne, as they travel around in the Mystery Machine van, getting into trouble and hopefully solving some crimes along the way.
Recently I discovered that there's a Scooby-Doo comic book series, and because my library had a compilation book of some of them, I figured I'd check it out for the heck of it since I love the television cartoon so much. Each story in the book is different and varies from a few pages to a maximum of six to eight pages in length. There's not much to say about the mysteries they solve in particular, other than I definitely prefer the 20 minute length show rather than a 3 minute comic read. It was fun, but not my favorite thing.
Related Posts