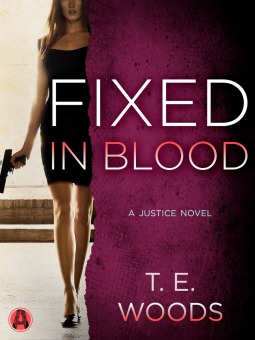 Title:

Fixed in Blood

by T. E. Woods
Series: Mort Grant #4
Published by
Random House Publishing Group - Alibi
Released:
June 16th 2015
Genres:
Fiction
,
Mystery & Detective
,
Psychological
,
Romance
,
Suspense
,
Thriller
Length:
310
Format Read:
eARC
Links:
Goodreads
|
Amazon
|
Barnes & Noble
My Rating:

Disclosure: I received a complimentary copy of this book from NetGalley. This does not affect my opinion of the book in any shape or form.
Perfect for fans of Jeff Lindsay's Dexter thrillers and the novels of Lisa Gardner and Karin Slaughter, the gritty, action-packed Justice series continues as a depraved mind taunts those who seek retribution on both sides of the law.

I become whatever they want. Whatever they need.

Seattle Chief of Detectives Mort Grant is still reeling from losing his daughter—again. When Allie first walked back into his life, breaking years of silence, he could hardly believe his luck. And after hearing her story, Mort tried to do everything in his power to keep her safe. The only person he trusted with Allie's life was The Fixer. But, for the first time, The Fixer let him down.

Now Mort has been called in on a gruesome murder case: a beautiful young woman found in a ravine, her body riddled with stab wounds. Within twenty-four hours, the police uncover a snuff film depicting her murder, the killer's face always just out of shot. When a second body and video are discovered, Mort knows this is no ordinary case.

From a chain of sleazy payday loan shops to the dark underworld of the sex-slave trade, Mort's chasing a twisted menace to hell and back. But he's not the only one. Once again, The Fixer is on the hunt—and she's desperate to make things right.
If I asked you to take away one thing from review of Eeny Meeny after reading it, I would hope would be that I enjoyed how sick and twisted it was. The same goes for Fixed in Blood. It wasn't your typical murder read, this one was far more than that.
In this novel there's some young dead prostitutes turning up, with videos of their murder – snuff films, as they're called, being uploaded to the internet to websites that host such content. (Side note: I really hope such a thing doesn't exist :c) They're not amateur videos, either – they're high quality, professionally done, and the murderer's face/body is *just* out of view, so it's difficult for the police to come up with any leads.
That's the main plot. The sub-plot is that a lot of the characters have baggage and drama within their families, drama and emotional baggage that I probably would have had a much better understanding of if I read the other three books in the series first. So while the story is standalone, you'd definitely connect better with the characters if you read the other books to better understand who they are, where they came from, and why they are now. I did have a little bit of trouble keeping track of who's who since there's a lot of characters and I'm not always the best on remembering who's who when there's a lot of people.
The main plot and sub-plot were suspenseful and grasping to me as a reader, not to mention there's some plot twists in the story. Not everyone is exactly who they seem to be, and a lot of things end up being linked together, some of which I didn't expect at all!
Related Posts