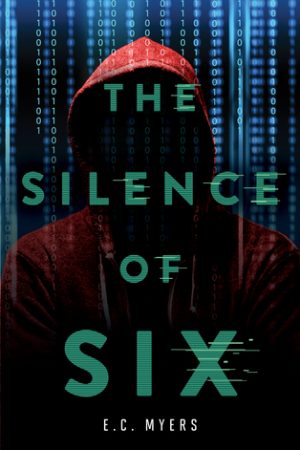 Title:

The Silence of Six

by E.C. Myers
Series: SOS #1
Also in this series:
Against All Silence
Also by this author:
Against All Silence
Published by
Adaptive Books
Released:
November 5th 2014
Genres:
Action & Adventure
,
Fiction
,
General
,
Law & Crime
,
Science & Technology
,
Social Issues
,
Suicide
,
Technological
,
Thriller
,
Young Adult
Length:
368
Format Read:
Hardcover
Links:
Goodreads
|
Amazon
|
Barnes & Noble
|
ThriftBooks
My Rating:

Disclosure: I received a complimentary copy of this book from Goodreads. This does not affect my opinion of the book in any shape or form.
"WHAT IS THE SILENCE OF SIX, AND WHAT ARE YOU GOING TO DO ABOUT IT?"

These are the last words uttered by 17-year-old Max Stein's best friend Evan just moments before he kills himself after hacking into the live-streaming Presidential debate at their high school.

Haunted by the unforgettable image of Evan's death, Max's entire world is upended as he suddenly finds himself the target of a corporate-government witch-hunt. Fearing for his life and fighting for his own innocence, Max goes on the run with no one to trust and too many unanswered questions.

Max must dust off his own hacking skills and maneuver through the dangerous labyrinth of underground hacktivist networks, ever-shifting alliances and virtual identities - all the while hoping to find the truth behind the "Silence of Six" before it's too late.
"What is the Silence of Six, and what are you going to do about it?" -Max's friend Evan after hacking into the presidential debate's video feed, right before shooting himself
Wow. I'm amazed. What a fantastic read. This is definitely my favorite book read so far this year and I'm positive it's going to top my 2015 reads. I started reading this book before bed, reading about 50 pages before I looked at the clock and noticed it was really late. I didn't want to put the book down, I wanted to keep going – but sleep is important too!
I ended up spending a majority of the following afternoon reading the remaining 300 or so pages. I couldn't put this book down, just like a lot of the others who have read this. (have you seen the book trailer? It's awesome!) Being a teenager myself (well, technically I'm an adult, but my age still ends in -teen!) and finding the subject of hacking interesting, this book was right up my alley. Page after page I kept turning, up until the very end.
I continuously found myself rooting for Max, Penny, and Risse as they risked their lives trying to figure out the clues Evan left for them so they could reveal the truth about the Silence of Six and what Panjea, the social network that's all the rave, is really all about. Every time the FBI was on the trail of Max I held my breath, silently rooting for him and his newly acquainted friends to escape from the law enforcement officials on their trail.
The one thing that stuck out as odd to me is Courtney's role. At the start I expected her to be a main character, but that ended up not being the case. The only role she really served in the story is the fact that she ran the Full Cort Press. I wasn't looking for romance or anything between her and Max, I was just surprised she did not have more involvement to the plot. Even with her minimal appearances in The Silence of Six I still really enjoyed this story and think a lot of you who enjoy this genre will, too. I'm glad there's a sequel coming out in 2016, as I'll definitely be picking that up. There is a short prequel, so be on the lookout for a review of that sometime soon. There's also one other book published by Adaptive Studios that sounds really good: Coin Heist by Elisa Ludwig. I think I'll be picking up a copy of that sometime soon.
UPDATE: Book 2, Against All Silence, has been published. You can check out my review of the sequel here.
Related Posts