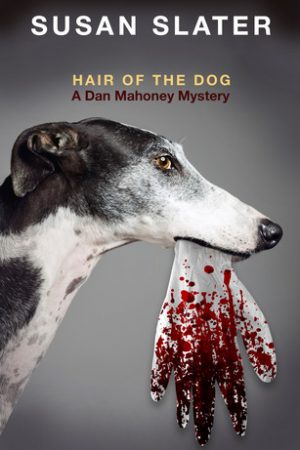 Title:

Hair of the Dog: A Dan Mahoney Mystery

by Susan Slater
Series:
Published by
Poisoned Pen Press
Released:
July 7th 2015
Genres:
Mystery & Detective
Length:
240
Format Read:
eARC
Links:
Goodreads
|
Amazon
|
Barnes & Noble
|
ThriftBooks
My Rating:

Disclosure: I received a complimentary copy of this book from NetGalley. This does not affect my opinion of the book in any shape or form.
It sounds like some work and mostly play when United Life and Casualty sends its investigator Dan Mahoney to Florida. Five greyhounds - all heavily insured - were lost in a fire at the Daytona dog track. So simple. Five dogs dead by smoke inhalation, bagged, tagged, and cremated. Papers all in order. Ashes in specialty urns on the desk of Dixie Halifax, track and casino co-owner. In jail, a young employee charged with arson to cover a murder he's blamed for committing. Then the body of kennel owner Jackson Sanchez is found face down in a pool of blood, a knife stuck in his back. But Sanchez didn't die from a knife wound. Someone has carved "thief" on his forehead. The blood pooled underneath his body isn't his. Should Dan be looking for a second corpse? And the one man who can answer questions, the track vet, dies in a motorcycle accident. Working this case is not as complicated for Dan as having his mother Maggie move into the FBI's favorite mob slob haven in nearby Palm Coast, while his fiancée Elaine Linden, on sabbatical, works on a PI license. Perfect—the FBI can set Maggie up to spy on her boyfriend who may be laundering cash in some geriatric mafia scheme in this follow-up to Flash Flood and Rollover.
Hair of the Dog is the third novel in the Dan Mahoney series by author Susan Slater. Dan is an investigator for the insurance company United Life and Casualty. This time around he's sent to Florida, where five racing greyhounds, all heavily insured, were lost in a fire – not to mention an employee was found dead in a pool of blood with the word "thief" carved on his forehead, too. While everything initially seems to be nothing but dead ends for Dan, over time pieces of the puzzle come to light.
I've got mixed feelings about this novel. I did enjoy the mystery. It had a lot of uniqueness to it, not to mention plenty of twists. However, I didn't really care for all of the writing. For starters, the beginning was a bit bland and it took a bit longer than I'd have liked before things began getting interesting, however in the grand scheme of things that's not the big issue. I felt that the book kept going off on tangents, almost sub-mysteries, and I was wondering how it related to the plot. Then finally, after a while, it was revealed where the tangent was going and how it related to the fire and murder mystery that Dan was investigating. I don't mind if books jump around like this, I just felt that in this particular novel it did it a bit too much and went off a bit too far before bringing things back to home plate.
I don't want to say too much about the twists as it'd spoil parts of the plot, however I do want to make it clear that I did enjoy all the twists and how people appeared innocent and unrelated to the fire/murder before the truth was brought to light. I definitely didn't expect a lot of what ended up happening! The main mystery in Hair of the Dog was very well thought out.
Related Posts