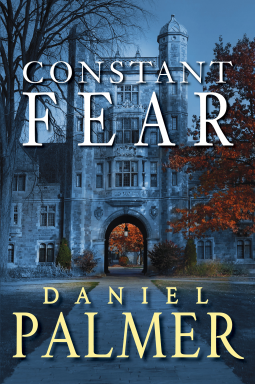 Title:

Constant Fear

by Daniel Palmer
Published by
Kensington
Released:
May 26th 2015
Genres:
Action & Adventure
,
Fiction
,
Suspense
,
Thriller
Length:
416
Format Read:
eARC
Links:
Goodreads
|
Amazon
|
Barnes & Noble
|
ThriftBooks
My Rating:

Disclosure: I received a complimentary copy of this book from NetGalley. This does not affect my opinion of the book in any shape or form.
In Daniel Palmer's electrifying, brilliantly plotted new thriller, a private school campus becomes a battleground as a desperate father takes on a terrifying enemy...

When Jake Dent's dreams of baseball glory fell apart in a drunk-driving incident, his marriage did too. In those dark days, a popular survivalist blog helped to restore Jake's sense of control. He's become an avid Doomsday Prepper, raising his diabetic son, Andy, to be ready for any sudden catastrophe.

Andy, now a student at the prestigious Pepperell Academy where Jake works as a custodian, has a secret—he's part of a computer club that redistributes money from the obscenely wealthy to the needy. Usually, their targets don't even realize they've been hacked. But this time, they've stolen from the wrong people: a vicious drug cartel that is coming to get its money back...

Staging a chemical truck spill as a distraction, the cartel infiltrates the Academy, taking Andy and his friends hostage one by one. Jake, hidden inside the school's abandoned tunnels, knows that soon the killing will start. With his training, and a stockpile of weapons and supplies, he's the last, best hope these students - including his son - have of getting out alive. But survival is no longer an abstract concept. It's a violent, brutal struggle that will test Jake to the limit, where there are no rules and no second chances...
Jake and his teenage son Andy live alone in a trailer in a quiet Massachusetts town. His ex-wife Laura has been out of the picture for many, many years after Jake was in a drunk-driving incident which threw his baseball career out the window, as well as Andy's diagnosis with diabetes. It was too much for her to handle so she walked out of his life, no traces of her to be found.
The two of them get along fine. Jake is a doomsday prepper and Andy is a computer geek. While Andy's fine with his father's doomsday preparations and he'll help out sometimes as a sacrifice to keep his father happy, his patience with it is growing thin. As the days pass Andy wants less and less to do with the survival training his father forces upon him.
As it turns out, Andy is more than a computer geek. He's a hacker. Him and a few of his friends at Pepperell Academy, where Jake works, are part of a secret computer club they call The Shire. They'll hack into bank accounts of the wealthy and transfer a thousand or so dollars to those who could use it – and the people are so rich, they don't even notice the money left their account.
Unfortunately, one of their hacks goes wrong. They ended up hacking a Mexican drug cartel and stole two million dollars worth of bitcoins. The cartel isn't happy about it, so they hunt down the money thieves, tracking them to the school they attend. The cartel then infiltrates the school after having a chemical truck spill its contents a little ways from the campus. With the school evacuated as a safety precaution due to the spill, the cartel take the members of The Shire hostage until they get their stolen money back. Will they make it out alive?
Many of us have probably seen some sort of doomsday show on television within the past few years, after National Geographic brought to light their his show Doomsday Preppers – showing Americans around the nation preparing for what they feel is a looming end of the world scenario that they want to live through. While Jake definitely takes his stuff seriously, he's not totally crazy: he doesn't look like a guy from Duck Dynasty as the book puts it, nor does he go around preaching the end of the world. In fact, he guards his doomsday preparations as a secret. Not even his girlfriend, Ellie, is aware. In my eyes there's nothing wrong with being a prepper. We all have our hobbies, beliefs, and quirk. Being a prepper is Jake's, as by being a survivalist he can prepare for the future.
The book was a little bit of a slow start for me, but after the cartel became involved the gears really started churning and the pace picked up from there on out. The hostage situation is what takes up a majority of the novel, and it's filled with many surprises and quite a bit of pain and gore – kicks to the testicles, a bullet splitting a head open "like a watermelon dropped from a height"….you get the idea. Quite some gruesome stuff! If it wasn't for all the gore and violence I'd have considered this young adult-ish. In fact, I'd almost consider The Silence of Six by E.C. Myers to be a young adult version of Constant Fear.
Constant Fear and The Silence of Six are completely different stories, let me make that clear. But both stories involve teenage hackers who find themselves in trouble for different reasons, and it's up for them to make it out alive. Both books are filled with lots of action and surprises.
Aside from the slow start I aforementioned, there are no other gripes. Constant Fear is a rush of adrenaline for the reader as they live through the hostage situation.
And, as final note, I too love reading the acknowledgements in novels just as Daniel Palmer mentions in his. I found the acknowledgement to his father very touching.
Related Posts