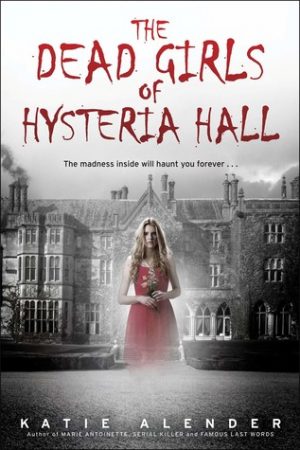 Title:

The Dead Girls of Hysteria Hall

by Katie Alender
Published by
Scholastic Inc.
Released:
August 25, 2015
Genres:
Paranormal
,
Supernatural
,
Suspense
,
Young Adult
Length:
336
Format Read:
eARC
Links:
Goodreads
|
Amazon
|
Barnes & Noble
|
ThriftBooks
My Rating:

Disclosure: I received a complimentary copy of this book from Edelweiss. This does not affect my opinion of the book in any shape or form.
In this asylum, your mind plays tricks on you all the time...

Delia's new house isn't just a house. Long ago, it was the Piven Institute for the Care and Correction of Troubled Females—an insane asylum nicknamed "Hysteria Hall." However, many of the inmates were not insane, just defiant and strong willed. Kind of like Delia herself.

But the house still wants to keep "troubled" girls locked away. So, in the most horrifying way, Delia gets trapped.

And that's when she learns that the house is also haunted.

Ghost girls wander the halls in their old-fashioned nightgowns. A handsome ghost boy named Theo roams the grounds. Delia finds that all the spirits are unsettled and full of dark secrets. The house, as well, harbors shocking truths within its walls—truths that only Delia can uncover, and that may set her free.

But she'll need to act quickly, before the house's power overtakes everything she loves.

From master of suspense Katie Alender comes a riveting tale of twisted memories and betrayals, and the meaning of madness.
Ever since I discovered "A Haunting" on Discovery Channel back when I was in middle school the paranormal has fascinated me. Sure, The Dead Girls of Hysteria Hall may be a work of fiction, but that doesn't mean anything. I enjoy reading about the paranormal, whether fact or fake, and because this book has to do with the paranormal it really interested me.
Delia, who is 16, is labeled as a "troubled teen" after she and her friends worked out a plan to fly to Daytona with her friends without their parents knowing. Except there's two things: one, she doesn't really want to go, and two, she ended up getting caught whilst at the airport after her parents caught wind of it. Oh, and her boyfriend broke up with her over text.
Then comes the news that she inherited her Aunt Cordelia's house, an aunt she's never actually met but corresponded with via snail mail when she was younger. As it turns out, her Aunt Cordelia lived in the Piven Institute for the Care and Correction of Troubled Females, or, better known by its nickname, Hysteria Hall. Founded in 1866 by Maxwell G. Piven, it ran until the 1940s until it was closed down.
It's decided that the family will be spending the entire summer at the institute as a punishment for Delia's whole nearly flying to Florida scheme. The family packs their bags and travels to nowhere, Pennsylvania. Although the rest of her family doesn't believe her, Delia is experiencing paranormal activity as soon as she steps inside the house, making her want to leave. The house is without a doubt haunted, but only she seems to be able to see it. Why? What century old secrets does the house hold between its walls?
I don't have anything negative to say about the book. It's definitely one of the most well-paced books I have ever read. There's never a dull moment and there isn't any fluff to make the story be longer. Everything about it flows so naturally. The plot is both suspenseful and mysteries and also contains some twists (as does any book) that the reader may or may not see coming.
I really liked the overall plot of the book and the direction it moved. I honestly can't put my finger on a particular aspect on why I loved the plot and pacing so much but I really, really liked how this book was laid out and advanced chapter by chapter. The concepts, the characters, really everything I really enjoyed. I wouldn't say it's one of my favorite reads, hence the four star rating, but don't get me wrong, it's still an enjoyable read. Especially if you like paranormal.
Should you read this book? As long as you're into the genre and synopsis, definitely! It's clean, there's no romance as subplot, it's just a good 'ol read about a girl trying to solve a paranormal mystery.
Related Posts