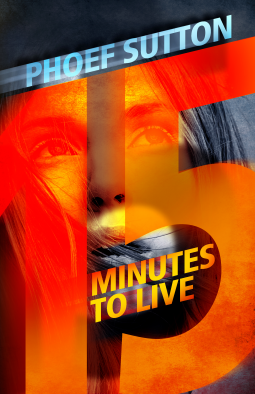 Title:

Fifteen Minutes to Live

by Phoef Sutton
Published by
Brash Books
Released:
May 5, 2015
Genres:
Fiction
,
Mystery & Detective
,
Thriller
Length:
193
Format Read:
eARC
Links:
Goodreads
|
Amazon
|
Barnes & Noble
|
ThriftBooks
My Rating:

Disclosure: I received a complimentary copy of this book from NetGalley. This does not affect my opinion of the book in any shape or form.
Carl moved into his childhood home after his parents died. It's a house filled with fond memories…like when he was a teenager and his girlfriend Jesse would throw pebbles at his window at night to lure him outside for frantic sex. So he thinks he's dreaming when late one night, he hears those pebbles hitting his window again…and there she is outside, aching for his touch. It's only as they are ravaging each other again that he realizes it's too good to be a dream.

It's her. She's back as if nothing has changed. But it has. For one thing, it's been twenty years since high school. And she died three weeks ago.

Is she an imposter? A ghost? Or is the answer even more chilling? It's just the beginning of a dangerous, unpredictable, and bizarre odyssey for them both…where nothing is what it seems… and every minute counts.

A substantially different version of this book was previously published as "Always Six O'Clock."
After the death of his parents, Carl moves into his childhood home. He has a lot of memories associated with the place, such as his girlfriend Jesse throwing pebbles at his window during the to get his attention and lure him outside for sex during his teenage years. One night, even though he's far past his teenage years, he hears the sound of pebbles against the window…and sees Jesse outside. There's just one problem: she's been dead for three weeks and he hasn't seen heard from her in twelve years. Is it really Jesse, and if so, what's going on? Previously published with a different storyline as "Always Six O'Clock", this book is sure to get you have you quickly turning the pages until the very end, piecing the story together.
It's always fun to stumble across a novel that's really engrossing, and Fifteen Minutes to Live is no exception. Sutton's writing makes the most compelling mystery novel I have read in a while. The book began with Carl hearing Jesse throwing the pebbles at his window, which creeped me out a bit and made me wonder what the heck was going on. I kept reading and reading, and before I knew it I was hooked.
The story is definitely a unique read. While not a crime novel, there's still a mystery at hand needing some solving. As Jesse's story is revealed to Carl you start to feel sorry for the two of them and what they're experiencing, and continue reading on hoping for the best. With the occasional dab of humor and plot twists, I couldn't put this book down at all. It's a wild adventure from start to finish.
Related Posts