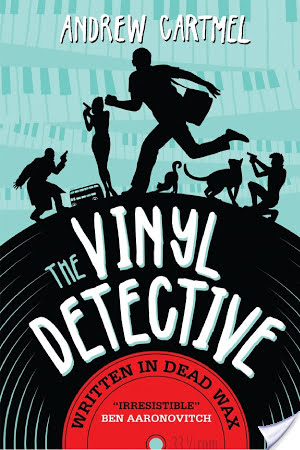 Title:

Written in Dead Wax

by Andrew Cartmel
Series: The Vinyl Detective #1
Published by
Titan Books
Released:
May 10th 2016
Genres:
Mystery
,
Suspense
,
Thriller
Length:
474
Format Read:
Paperback
Links:
Goodreads
|
Amazon
|
Barnes & Noble
|
ThriftBooks
My Rating:

He is a record collector - a connoisseur of vinyl, hunting out rare and elusive LPs. His business card describes him as the "Vinyl Detective" and some people take this more literally than others. Like the beautiful, mysterious woman who wants to pay him a large sum of money to find a priceless lost recording — on behalf of an extremely wealthy (and rather sinister) shadowy client.  Given that he's just about to run out of cat biscuits, this gets our hero's full attention. So begins a painful and dangerous odyssey in search of the rarest jazz record of them all...
A few months ago, right around the time I purchased a few records for the first time, I saw a tweet from Titan Books that highlighted this book. Intrigued, I searched my library's catalog for it, and was pleasantly surprised when I saw they had a copy.
I really, really enjoyed it. I wouldn't consider it your typical cozy mystery since there is some language, weed smoking, and a touch of sex, but it's far from your regular run of the mill police procedural mystery since the protagonist is your average joe, albeit with a great knowledge when it comes to vinyl. What I find interesting is we learn everyone's name but his. We only know him as the Vinyl Detective, as he calls himself on his business card.
One day a woman seeks out his detective services to find a rare record on behalf of someone she is working for. The first record is just a test for him to see if he can do what he says he does, and the second one is the real deal. In exchange for his services, if he locates the record, he'll be paid a large sum of money. The book is split into two parts, side one and side two, though I wish it was called a-side and b-side. Close enough, though. While both parts are related as a whole, part two builds upon the events in part one, and just adds on to the mystery.
I really didn't know what to expect going into Written in Dead Wax other than its unique plot for a mystery novel, since the plots of most mysteries deal with crimes such as murder, whereas this one's just seeking out a record. No crime whatsoever being investigated, just a dude finding a record for a pretty lady who's getting it for someone else that the protagonist isn't allowed to know anything about. I was pleasantly surprised by what the book entailed. The mystery was intriguing and full of twists I did not expect, plus a lot of the writing was witty and humorous. I did feel like the writing in the first half of part one droned on a little at times with unnecessary elaborations of sorts, but I did not mind it too much and since I loved the majority of the book I don't feel that it's worth deducting any stars from my rating.
This book was published in May 2016, with its sequel, The Run-Out Groove, arriving back in May of this year. The third book, Victory Disc, will also be coming out in the month of May, this time in 2018. I plan on reading The Run-Out Groove soon and will definitely be checking out Victory Disc when it's out! I am definitely wondering which female characters from book one will be returning in book two, because I did enjoy Nevada and the unnamed protagonist working together and hanging out. Plus she loves his cats dearly.
Related Posts