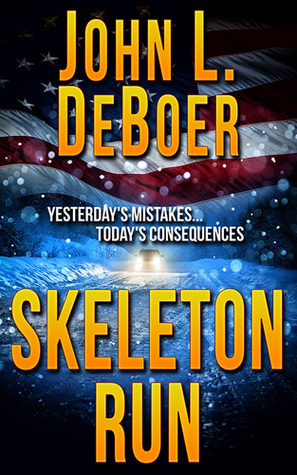 Title:

Skeleton Run

by John L. DeBoer
Published by
Red Adept Publishing
Released:
April 15, 2015
Genres:
Fiction
,
Thriller
Length:
272
Format Read:
eBook
Links:
Goodreads
|
Amazon
My Rating:

Disclosure: I received a complimentary copy of this book from NetGalley. This does not affect my opinion of the book in any shape or form.
Twenty years ago, four teenage boys left a baby behind in a crushed car after they caused the tragic accident that took the mother's life. Ever since, they've guarded the secret that would've ruined their lives and destroyed their future careers. But when one of them succumbs to illness, a blackmailer makes contact, and the survivors realize that, somehow, someone else knows. Now, everything that matters to them is at stake.

Las Vegas billionaire Wendell Logan is pursuing the role of political kingmaker, and he's selected his unsuspecting king: Alan Granger, governor of Pennsylvania. Granger confesses his closet skeleton to Logan, but the tycoon has invested too much time and money into Granger's future presidential campaign to let him and his old friends endanger Logan's power play.

It's time to run.
We all have secrets we either choose to keep to ourselves or amongst a trusted few. Alan Granger, governor of Pennsylvania, has a big one: when he was a teenager, him and three friends were in a car crash that left the mother of a baby dead. They fled the scene so they could cover their asses, leaving the baby behind, hoping help would arrive before it was too late. Fast forward twenty years, and there's the chance this secret will go public. Alan and his friends have a chance encounter with the wife of the man they left behind in the car wreck with his dead mother all those years ago. She ends up extorting money from them to keep her quiet about what they did, but that's not the only problem. Jump ahead in time a little, and Alan is running for president. A billionaire named Wendell Logan is funding his entire campaign, and he'll stop at no costs to keep Alan's skeleton in the closet, making sure it never sees the light of day.
I feel that lately I've been reading a lot of books that either take place in Pennsylvania or were written by authors that live in Pennsylvania. Kinda cool, considering that when I choose to read those books I'm not aware of that fact. It was neat to see some towns mentioned in this novel that I'm familiar with.
I enjoy fast paced thrillers, and while I wouldn't really consider Skeleton Run to be that exhilarating, I still enjoyed it. It wasn't that suspenseful and I never really felt "on edge" while reading it, it was more of a "Alan and his friends try to keep their big secret hushed while trouble finds them and they need to figure out what's the best course of action" type of scenario. While it was necessary to tell the story, I felt that the story did jump around a little too much, but that could partially be due to the fact that I have a little more trouble than the average person at keeping track of who's who and what's going on. I did, however, enjoy seeing how the story panned out and whether or not Alan became president of the United Sates.
All in all, I'd say it was a decent read, but not one of my favorites.
Related Posts