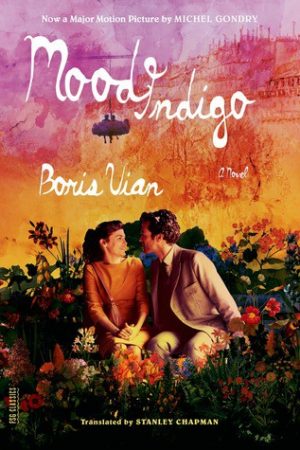 Title:

Mood Indigo

by Boris Vian
Published by
Straus and Giroux
Released:
June 24th 2014
Genres:
Fiction
,
Literary
,
Romance
Length:
224
Format Read:
Paperback
Links:
Goodreads
|
Amazon
|
Barnes & Noble
|
ThriftBooks
My Rating:

The basis of the new major movie from Michel Gondry, starring Audrey Tautou, the beloved French modern classic hailed as "the most poignant love story of our time" by Raymond Queneau

The story is simple: Boy meets girl; boy marries girl; girl falls ill on their honeymoon with a water lily on the lung, which can only be treated by being surrounded by flowers; boy goes broke desperately trying to keep his true love alive.
First published in 1947, Mood Indigo perfectly captures the feverishly creative, melancholy romance of mid-century Saint-Germain-des-Prés. Recently voted number ten on Le Monde's list of the 100 Books of the Century (the top ten also included works by Camus, Proust, Kafka, Hemingway, and Steinbeck), Boris Vian's novel has been an icon of French literature for fifty years—the avant-garde, populist masterpiece by one of twentieth-century Paris's most intriguing cultural figures, a touchstone for generations of revolutionary young people, a jazz-fueled, science-fiction-infused, sexy, fantastical, nouveau-decadent tear-jerker that has charmed and beguiled hundreds of thousands of readers around the world. With the help of Michel Gondry and Audrey Tautou, it is set to seduce many, many more.
A friend mentioned Mood Indigo to me at one point last year. He hadn't read it; he just knew of it and had a copy of his own that he wanted to get to at some point. Since I'm usually not one to read foreign material that's been translated, I figured I would give this a go since it sounded interesting.
The novel was….interesting to say the least. Colin is looking for love and jealous of his friend Chick who is with a girl named Alyssum. He later meets Chloe, firstly embarrassing himself in front of her, but the two get along well, marrying soon after. On their honeymoon Chloe becomes sick with a water lily on her lung and Colin then goes through his fortune trying to make her better.
Some parts of Mood Indigo made sense, some didn't. One moment that really confused me was when Colin met up with Chloe at the park, the chapter ends, and then in the next chapter he announces to his friends they are engaged. There was no transition or writing about this happening so I read back to see if I skipped something and no, I didn't. It was too much of a plot jump to me. I also didn't understand the significance of the mice, if there even was any, and the epilogue seemed random and confusing to me, too. The story is also home to lots of complex words or very long sentences.
Enough with the negativities, however. It was a charming story to watch Colin sacrifice everything in hopes of making Chloe better out of selflessness. While the story was confusing to me, I watched the film under the same title a couple of weeks later and it helped clear up some things and also made me realize that no I wasn't confused, that's really how the story is! The film rather artistic. I did enjoy seeing the book come to life, and especially loved this song from its soundtrack:
Mood Indigo was worth the read. Though I was unsure my feelings of it initially after finishing it, it quickly grew on me more as I had more time to process it and what I read.
Related Posts