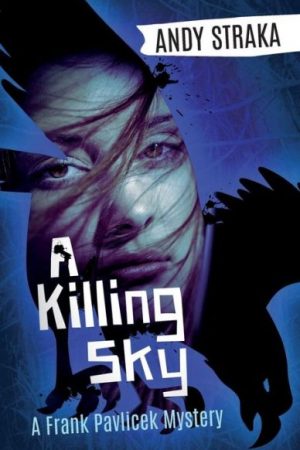 Title:

A Killing Sky

by Andy Straka
Series: Frank Pavlicek Mysteries #2
Also in this series:
A Witness Above
Also by this author:
A Witness Above
Published by
Brash Books
Released:
May 5, 2015
Genres:
Mystery & Detective
,
Thriller
Length:
323
Format Read:
eARC
Links:
Goodreads
|
Amazon
|
Barnes & Noble
|
ThriftBooks
My Rating:

Disclosure: I received a complimentary copy of this book from NetGalley. This does not affect my opinion of the book in any shape or form.
Ex-cop and avid falconer Frank Pavlicek is hired by the daughter of a philandering Virginia Congressman to find her missing twin sister. Is her disappearance related to her disintegrating relationship with her boyfriend? Or is it somehow connected to her ambitious father's re-election campaign, a tawdry sex scandal, and a hit-and-run accident that happened twenty years ago? Pavlicek's investigation unearths long-buried secrets that someone would like to keep six feet under...along with the PI's corpse.
Brash Books claim to publish the best crime novels in existence, and I'm beginning to agree with them. Of the three novels I've read from them so far, two of them I've given a five star rating. A Killing Sky is five star material to me. The story is the second in a series that follows ex-cop now turned private investigator Frank Pavlicek. This time he's hired by the daughter of a Virginia Congressman to find her missing twin sister, as she went missing after saying she was going to drive over to her boyfriend's dorm and break up with him. With only a few leads to pursue, such as a seemingly unrelated hit-and-run that occurred 20 years ago, it's up to Frank to find the missing twin before it's too late.
Political scandals are far from uncommon, so it should be no surprise that Congressman Drummond himself has been caught up in a few. He's had a handful of affairs and even nearly raped a woman, although the public eye doesn't know that. So when one of his daughters go missing, all eyes point to him as the suspect. Did he get rid of her to hide something, or was it the workings of someone else?
It's nice to have things be switched up when I read crime novels – sometimes I'll read a legal thriller, a cop thriller, or, in this case, as told from a private investigator. A Killing Sky was a greatly told story. The seemingly unrelated events turned up related, all thanks to Frank's sleuthing to prove it. I was on the tip of my toes the whole time, reading along to see what the current scenario would lead to. I haven't read any of the other novels in the Frank Pavlicek series yet, but I can guarantee you that I will be soon. Straka writes with such a captivating style that it's difficult to stop reading.
Related Posts