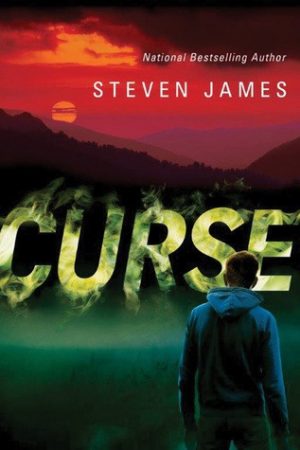 Title:

Curse

by Steven James
Series: Blue Trilogy
Also in this series:
Blur
,
Fury
Also by this author:
Blur
,
Fury
Published by
Amazon Publishing
Released:
May 24th 2016
Genres:
Mystery
,
Paranormal
,
Thriller
,
Young Adult
Length:
475
Format Read:
Paperback
Links:
Goodreads
|
Amazon
|
Barnes & Noble
|
ThriftBooks
My Rating:

Don't miss this intriguing and climactic conclusion to the Blur Trilogy.

As Daniel Byers prepares to attend a basketball camp before his senior year of high school, the terrifying blurs that've plagued him for the last nine months return.

Dark images begin to haunt him—creatures crawling from the deepest pits of his nightmares, glimmers of chilling memories from his early childhood. But before he can unearth the meaning behind his mysterious hallucinations, Daniel must team up with two other extraordinary teens to save a young woman who has been abducted by a scientist obsessed with enacting his own warped form of justice.

This atmospheric mystery picks up where Fury left off and takes readers into the uncharted regions where reality and madness intertwine.
Curse is the third and of course final book in the Blur Trilogy by Steven James. I was hooked on the first two books, reading them back to back. I enjoyed the third book too, but not quite as much.
Picking up where book two left off, Daniel is working to find out why exactly he has mysterious hallucinations, called blurs. After a dry spell without them and thinking everything has gone back to normal for good, shortly before getting ready to go to basketball camp out of state he has another one and ends up hurting his arm. Daniel ends up playing it cool to his parents and acting like everything is fine so he can still go to camp, much to their disapproval. While he is allowed to go on a road trip with his friends to camp, unfortunately Daniel doesn't quite make it there. A senator's daughter has been kidnapped and him and some other teenagers with abilities like his need to team up and save her from a scientist with a skewed sense of justice.
Having being hooked on the first two books and reading through them really quickly, Curse wasn't quite as favorable for me. It was exciting, but didn't completely suck me in sometimes, plus I didn't always care for the writing. I also felt that it was pointless for the book to jump to another character for a mere sentence before switching back to whatever character(s) the story was being told from in that moment. My final gripe with Curse is that the subplot relating to Daniel's blurs almost seems secondary and unnecessary for this third book. In the first two books in the trilogy they were what the plot revolved around so it was crucial, but this time, not so much. While Daniel's blurs were incorporated in a partially important way and used to save the senator's daughter in this story, the rest of the book relating to his blurs seemed like filler and a waste of reading time. On the plus side, I did enjoy the ending. There are some unanswered questions still, but some things are letter left unsaid.
If this was the first book in the series, I'd feel pretty "meh" about it, but because this is the ending and the first two were so great I felt that Curse was a mostly enjoyable conclusion to the trilogy.
Related Posts