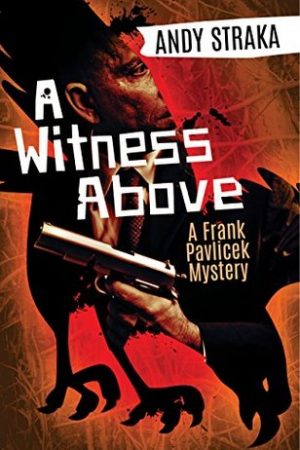 Title:

A Witness Above

by Andy Straka
Series: Frank Pavlicek Mysteries #1
Also in this series:
A Killing Sky
Also by this author:
A Killing Sky
Published by
Brash Books
Released:
May 5th 2015
Genres:
Crime
,
Mystery & Detective
Length:
316
Format Read:
eARC
Links:
Goodreads
|
Amazon
|
Barnes & Noble
|
ThriftBooks
My Rating:

Disclosure: I received a complimentary copy of this book from NetGalley. This does not affect my opinion of the book in any shape or form.
What's the PI series that Edgar winners Michael Connelly, Jeffery Deaver, Steve Hamilton, and Rick Riordan read when they want the best?

This one.

Thirteen years ago, NYPD Detective, Frank Pavlicek quit the force after a controversial shoot-out that left an unarmed African-American teenager dead. The divorced father of a teenage daughter, Pavlicek now works as a private investigator and hunts with a trained falcon. While hunting, he discovers the corpse of a black, teenage drug dealer with ties to his daughter. Unable to ignore the connections to his family or the shooting that cost his career, he goes after the killer to find the truth, save his daughter …and free himself from the shackles of his past.
Although I began this series out of order, starting with the second book, it doesn't matter too much. The novels are standalone, aside from the fact that since this is the first story, it details how and why Frank Pavlicek went from being a cop to being a police officer. Quite the interesting backstory.
Unlike the second novel, this case is more personal for Frank, and it's not one he's hired on. His daughter is in jail after cocaine was found hidden in her vehicle, which she claims she was unaware of. Plus Frank found the body of one of her friends, Dewayne Turner, more than 100 miles from his hometown. Things definitely aren't looking up for the Pavlicek family, even if they claim innocence.
Andy Straka does a great job at stringing the reader along at pace that keeps you from wanting to put the book down, also without boring the reader. Honestly, Brash Books is killing it, and I feel that at this point, all of their titles are must reads! (as well as the rest of the Frank Pavlicek series)
This is definitely one of my favorite crime novels, not just because of its uniqueness with Frank Pavlicek being a private detector and falcon owner, but because of the interesting narrative in his journey where he tries to put the puzzle pieces together in an attempt to prove both his and his daughter's innocence. Andy Straka tells a compelling story that keeps you guessing until the very end.
Related Posts