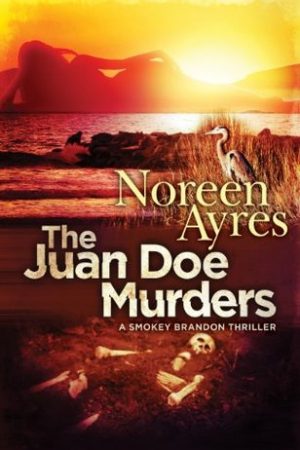 Title:

The Juan Doe Murders

by Noreen Ayres
Series: A Smokey Brandon Thriller
Published by
Brash Books
Released:
September 14, 2014
Genres:
Crime
,
Mystery & Detective
Length:
185
Format Read:
eBook
Links:
Goodreads
|
Amazon
|
Barnes & Noble
|
ThriftBooks
My Rating:

Disclosure: I received a complimentary copy of this book from NetGalley. This does not affect my opinion of the book in any shape or form.
Someone is killing illegal, Hispanic immigrants and leaving their bodies strewn like trash across Orange County, the playground of Southern California's rich and privileged. But the murders go largely unnoticed, the anonymous, "Juan Doe" victims as invisible in death as they were in their hidden lives, toiling in low-wage jobs serving the wealthy... until forensics specialist Samantha "Smokey" Brandon sees the gruesome pattern.
Someone is killing illegal Hispanic immigrants across Orange County, leaving the bodies in plain site. Who's doing it and why? It's up to Smokey Brandon to solve the seemingly random murders and figure out who's behind the killings.
Meh. I wish I had more to say about this book. While I did finish the novel (I don't like to leave a book unread), it never really grasped me in. I didn't find it that exciting or thrilling. Yes, it's fun to watch a mystery be unravelled and solved before there's another murder, but between the first person narrative and the story not being too thrilling for me until the very end, I found The Juan Doe Murders to be rather dull. That's all I really have to say about this one. Sorry, folks!
Related Posts