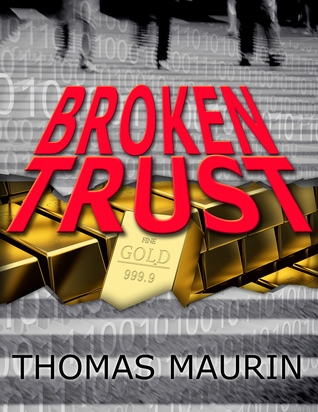 Title:

Broken Trust

by Thomas Maurin
Series: 3 Musketeers #1
Published by
CreateSpace
Released:
October 25th 2014
Genres:
Action & Adventure
,
Fiction
,
Thriller
Length:
294
Format Read:
Paperback
Links:
Goodreads
|
Amazon
|
Barnes & Noble
|
ThriftBooks
My Rating:

Disclosure: I received a complimentary copy of this book from Goodreads. This does not affect my opinion of the book in any shape or form.
This is a story about three smart, successful people who were once fast friends in college and have now been thrust together again in an unlikely, multi-layered investigation with far-reaching international implications and billions of dollars at stake. One is a forensic accountant for the SEC, one beta tests hardware and software for the US Department of Defense and the UK Ministry of Defense, and the third is a wildly successful entrepreneur, software developer and venture capitalist in Silicon Valley.

They get caught up in the hunt for a corrupt Swiss banker intent on finally unloading the last of the gold stolen by his father in World War II; a violent, narcissist leader of a Mexican drug cartel making his move to take over as the head of all cartels in Central America; and the daughter of a murdered Bulgarian arms dealer making the deal that will give her mother financial stability and get them both out of the increasingly unstable arms business.

The plot unfolds as financial crimes committed by insiders put common criminal activities to shame in a world where technology has increasingly insinuated itself into our lives to good and bad effects.
As much as I dislike book reviews that open with "This genre usually isn't the type I read so I was unsure if I'd like it, but ended up loving it", I can say that about this book. Kind of.
I tend to read general young adult books, as well as the odd few fantasy and science fiction. Rarely thrillers, but clearly I'm missing out. If I remember correctly, the last time I read a thriller-type book would be Scorpia Rising from the Alex Rider series, which came out back in 2011. So yeah, it's been a while since I've read a thriller. Not only that, but the amount of thrillers I have read has been far and few.
Let me just say that Broken Trust has changed that. From the get-go, after the two page flashback opening, you're instantly plunged into a fast paced world of Fitz, Chas, and James as they try to figure out what a Swiss banker, a Mexican drug cartel leader, and the daughter of a murdered Bulgarian arms dealer have in common before it's too late, working around the clock to put an end to their plans. The traits of the characters were very appealing and likeable. Jamie was like a geeky James Bond, so he was right up my alley. Broken Trust was written very well. I didn't expect a lot of the plot twists! I'd give you specifics but I don't want to spoil anything! Overall I really enjoyed this story and I'm glad it's going to be series. A sequel, titled Broken Web, will be available later this year. I'll definitely be reading that book too.
My only gripe, if you want to call it that, is that the back of the book doesn't really tell you what the story is about. Instead, it tells you to go to brokentrustnovel.com to read about the plot and characters. Not the end of the world, but if the book was picked up in a bookstore by someone browsing for something to read, that's not the kind of thing you would expect.
Related Posts