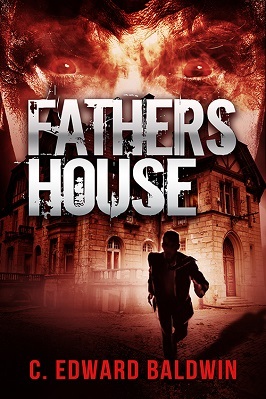 Title:

Fathers House

by C. Edward Baldwin
Also by this author:
Rememberers
Published by
Ink-Stone Publishing
Released:
December 15th 2013
Genres:
Crime
,
Mystery & Detective
,
Thriller
Length:
278
Format Read:
eBook
Links:
Goodreads
|
Amazon
|
Barnes & Noble
My Rating:

Disclosure: I received a complimentary copy of this book from Storycartel. This does not affect my opinion of the book in any shape or form.
For assistant district attorney Ben Lovison life couldn't be any sweeter. He has a job that he loves and a beautiful wife set to deliver their twin boys at any moment. For a man whose life got off to a rocky start following the brutal slaying of his mother in broad daylight in front of his childhood home, it was a testament to his perseverance surviving to and achieving success in adulthood. But when a young teen is fatally beaten in an abandoned schoolyard, Lovison is assigned a case that will pull the wool from over his world. He soon fears that his story of perseverance and overcoming may have actually been one of deceit and deception. And Mayo Fathers, the man he'd credited with saving him may have been a wolf in sheep's clothing. Devastated by the discovery that Fathers may have been involved in both the murder of his mother and the disappearance of the father he never met, Lovison has to regroup and persevere once again. But this time, other lives hang in the balance.
Fathers House is the debut crime thriller from C. Edward Baldwin. The story follows Ben Lovison, an assistant district attorney in Duraleigh, North Carolina, who loves his job, his wife, and his soon to be born twins. Duraleigh is touted as one of the safest cities to live in due to all gangs being disbanded, no street violence, and no drug problems. But is that really the case? As Ben digs further and further into his investigation, he's led to believe that "Uncle" Mayo Fathers, the man in charge of Fathers House, is actually running a secret drug operation from the building's basement as well as his funeral home. Is Fathers House, a home for troubled adolescent boys, really that, or is it just a front for the drugs? Who are the Fathers Disciples? Is Mayo really Father, or is Father someone else? It's up to Ben to piece together what little information he has and figure out who's on his side and who's on Fathers' side before it's too late.
Fathers House was an thrilling read. The story is told in third person and every chapter it jumps to a different character so you can see what they're currently up to and dealing with. I kept turning the pages to see if Ben would gather any new intel on Fathers House, Fathers Disciples, or Uncle Mayo himself. Around the middle of the book there were some unexpected plot twists, and as a result, by the end of the story things turned out differently than how I expected them to. I love it when that happens!
With the corruption of city officials in mind, I found myself beginning to doubt everyone and trust nobody just like Ben. Are people really as they seem? Are they really telling the truth? Whenever someone spoke up and tipped Ben or the FBI about the mysterious drug ring, Father got word of it and sought punishment for them, a punishment that usually resulted in death. Father knows law enforcement is on the trail of Fathers Disciples, but he won't go down without a fight.
Overall I found Fathers House to be a decent and unique crime thriller, as the plot wasn't about solving mysterious murders like a lot of crime novels are. I also enjoyed how there were lots of dead ends and only minimal pieces of information the agents could at least try to piece together. C. Edward Baldwin's next book, Rememberers, will be the first of three books in his new urban fantasy series. Rememberers will be out in early June.
Related Posts