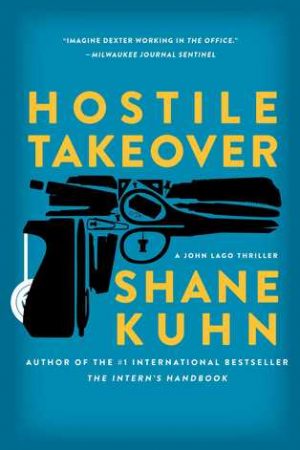 Title:

Hostile Takeover

by Shane Kuhn
Series: John Lago Thrillers
Published by
Simon and Schuster
Released:
July 14th 2015
Genres:
Crime
,
Fiction
,
Suspense
,
Thriller
Length:
256
Format Read:
Hardcover
Links:
Goodreads
|
Amazon
|
Barnes & Noble
|
ThriftBooks
My Rating:

Disclosure: I received a complimentary copy of this book from Goodreads. This does not affect my opinion of the book in any shape or form.
Professional assassin John Lago faces off against his deadliest adversary yet—his wife—in Hostile Takeover, the exciting sequel to Shane Kuhn's bestselling debut The Intern's Handbook, which the New York Post called "a sexy, darkly comic thriller."

At the end of The Intern's Handbook, John tracks down his nemesis Alice but instead of putting a bullet in her head, he puts a ring on her finger and marries her. Together, they execute a hostile takeover of Human Resources, Inc., the "placement agency" that trains young assassins to infiltrate corporations disguised as interns and knock off high profile targets. As HR's former top operatives, they are successful until conflicting management styles cause an ugly breakup that locks John out of the bedroom and the boardroom.

But when Alice takes on a new HR target, John is forced to return to the office battlefield in a role he swore he would never play again: the intern. What starts out as a deadly showdown turns into the two of them fighting side by side to save HR, Inc.—and their marriage.

"Those who like Dexter will love John Lago" (Booklist), and in Shane Kuhn's sequel to The Intern's Handbook, readers will be rooting for this smart, witty antihero to come out on top.
There are your typical run of the mill thrillers and there are thrillers that stand out because of their uniqueness. This is one of those thrillers that stand out among the rest, as I haven't read any novels that even closely resembles Hostile Takeover. That is a good thing.
Although this is the second book in the series, it can be read standalone — although I wouldn't have minded having a little more backstory on John Lago by reading the first thriller in the series. Not to worry, though, as I'm ordering the first book soon – which, by the way, is going to be a major motion picture at some point in time. It's been said that the John Lago series is like Dexter working in the office. Now I haven't watched Dexter at all, but this book convinced me I need to so I've loaded that up on Netflix to begin watching.
This second book begins with hitman/assassin John Lago being questioned by FBI Assistant Director Winton Fletcher after having been caught in a mission gone wrong. Throughout the book he tells Fletcher (in present tense) the story of how him and his wife, Alice, met, got married, and had their ups and downs as they ran Human Resources, Inc together – an agency that trains assassins to infiltrate corporations disguised as interns and take out their targets. Like any marriage or business partnership, the two have their ups and downs.
What I enjoyed most about this novel is that while it's serious at times, there's the aspect of lightheartedness most of the time. It's full of sarcasm, funny descriptions and similes, and, to top it off, John and Alice are so madly in love that the way they speak and act around the teacher will make you want to 1) cringe or 2) gag. No, the author's writing isn't bad, they are purposefully portrayed that way. All the while I read this book I kept texting my girlfriend pictures of my favorite passages and sentences. Here's a couple:
"That's a good look for you," I whispered.
She kissed me and put my hand on her ass.
"Just remember," she whispered back. "If you don't make it out of here alive, you'll never see this ass again."
"That's the best pep talk I've ever had," I said.
or this one:
"I, Alice, take you, John Lago, to be my hot husband. I promise to love the shit out of you, maybe even until it hurts. Actually, definitely until it hurts. I promise to be an aggressive, predatory, highly disagreeable bitch to everyone but you, and I promise never to attempt to maim, cripple, or kill you, even if you leave the dishes in the sink.
"I knew you hated that."
See? It's not your typical run of the mill thriller as it takes on more of a humorous and lighthearted tone. It's got everything: crazy love-making sessions, traitors, drones, gangstas, and even a scene where scalding hot coffee is poured on John's junk. Yeah, ow.
A few parts of the book were a little "meh" to me, but I'd say I found 90% of the book to be enjoyable, a claim that can be confirmed by the fact that I read 80% of it in a single day since I didn't want to stop. I felt like I would've enjoyed things a bit more if I had the whole backstory on HR, Inc. by reading the first book in the series, even though Hostile Takeover is standalone. I just have to submit my order for the first book, wait for it to arrive, and read it!
Someone mentioned on Goodreads that more books will eventually be released. I haven't looked into the claim but assuming it's true, I'm glad to hear that. I don't know how much the future additions to the series will focus on John and Alice, but I hope this isn't the last I hear of them. Even with their differences and attempts to kill each other, they make a great couple. I've never really shipped book characters before, but…they're definitely a OTP.
Related Posts