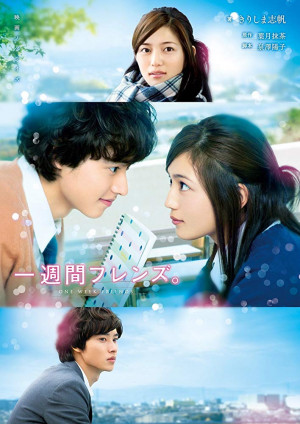 Title:
One Week Friends
Released:
February 18, 2017
Genres:
Drama
,
Romance
,
Young Adult
Length:
2 hours
Links:
IMDB
|
Wikipedia
My Rating:

High school student Yuki Hase wants to become close with classmate Kaori Fujimiya who is alway by herself. Kaori Fujimiya refuses to become close with Yuki Hase, because she forgets her friends every new Monday. Even though Kaori tells Yuki why she doesn't want to become friends, Yuki still wants to become close to her.
Based on manga series "Isshukan Friends" by Matcha Hazuki that ran from 2012 to 2015, One Week Friends has been adapted both into an anime series and a live action film. I stumbled across it a little over a month ago and instantly knew this was something I wanted to watch.
Following Kaori Fujimiya (Haruna Kawaguchi) and Yuki Hasi (Kento Yamazaki), the latter of which plays Kakeru in my all time favorite film, Orange, the story opens with Yuki finding a library card belonging to Kaori and wondering if the person it belongs to is cute. Ultimately the two are paired in the same class for eleventh grade. Yuki notices Kaori is quiet, and wants to be her friend, but is puzzled how she seems to not remember him between returning her dropped library card and running into each other on the train.
As it turns out, Kaori does not remember him. Due to an accident, come Monday her brain resets and she no longer remembers her friends. Dissociative amnesia, as it's better known as.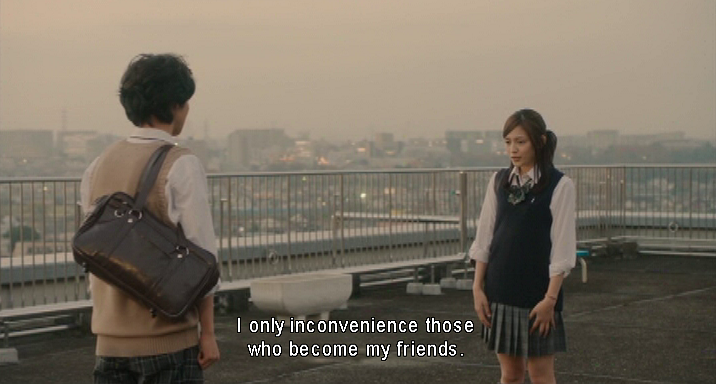 Yuki is upbeat and determined to be friends with her, however, even though Kaori feels she is inconveniencing people and thus does not want to make friends. As the film goes on we see Yuki try his best to help Yuki remember him and what they've done through a journal the two share. He'll write in it during the week and give it to her on Fridays for her to return to him on Mondays. As the story goes on we find out why Kaori has this amnesia.
While the story is a little sad, at the same time it still makes you feel a little happy because Yuki is trying his best with Kaori instead of writing her off and giving up. After all, he likes her and wants to be more than friends.
Nonetheless, the film does not take a main focus on the romance Yuki wishes for, but instead on Yuki and why her memory is the way it is, for better or for worse. It shows you just how fragile memory and friendships truly are, and can be taken away from you at a moment's notice. It's not one of my top films, but still had its moments that I found enjoyable.
Related Posts