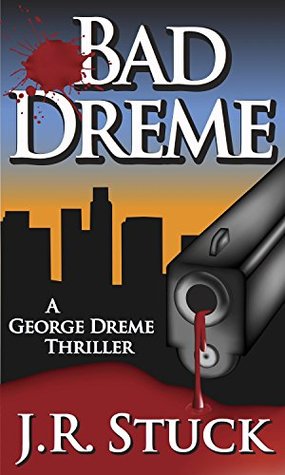 Title:

BAD DREME: A George Dreme Thriller

by J.R. Stuck
Published by
Jay R. Stuck
Released:
February 21st 2015
Genres:
Action & Adventure
,
Crime
,
Fiction
,
Law & Crime
,
Thriller
Length:
140
Format Read:
eBook
Links:
Goodreads
|
Amazon
My Rating:

Disclosure: I received a complimentary copy of this book from Storycartel. This does not affect my opinion of the book in any shape or form.
If action, adventure and contract killing is your thing-- George Dreme in Bad Dreme is your man. Dreme is smart. Dreme is funny. Dreme is a hypochondriac. Dreme is a merciless hit man that never misses. Now Dreme is targeting the head of an advertising agency in Los Angeles who has a big secret. Car chases. Shoot-outs. Crazy characters. It's a wild ride and southern California will never be the same. Get ready. George Dreme is in town.
"Perhaps the sight of a blood-spattered naked man wearing only his tighty whities is commonplace at the World Congress Center but I couldn't be certain, so I decided to keep them on." -George Dreme
Meet George Dreme. He's a hitman and also a hypochondriac. If that's not funny, then I don't know what is. Bad Dreme begins with George trying to kill Vinish Teanik, the CEO of Intra-border Security Solutions. The job could've been cleaner, but at least he gets it done. He's good at what he does, as he's been doing it for over a decade. Shortly after his job eliminating Vinish, his boss, Little Tyke, calls him and assigns him his next hit. This time it's for Jerry Kramer, the president of the Kramer, Burns advertising agency in Los Angeles. He has 10 days to do it. Sounds simple enough, right? Not exactly. Dreme runs into numerous complications, strange people, and even finds himself in a car chase. And why is Kramer's partner Hal Burns such a ghost? What secrets are behind the doors of Kramer, Burns? It's up to George to find out what's going on and finish his job done before time runs out.
For being a first novel, I thought it was well written. Only a few minor typos, the plot was interesting, and best of all, I really loved the humor in the book. Dreme made a lot of witty remarks throughout his story and the fact that he was overly concerned about his health made it all the more funny. I felt the ending was just a pinch too quick, but it's not like there's a gap in the story missing as a result, so all is fine. The characters, especially the weird ones Dreme encounters, are definitely…. interesting. I wasn't planning on there being much of a mystery when going into this book but was pleased by both the mystery and plot twists Bad Dreme offers.
Bad Dreme is the first of multiple George Dreme thrillers, with the next one, Fever Dreme, coming out in Spring 2015.
Related Posts