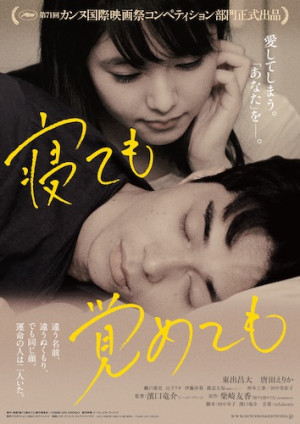 Title:
Asako I & II
Released:
September 1, 2018 (Japan)
Genres:
Drama
,
Romance
Length:
1 hour, 59 minutes
Links:
IMDB
|
Wikipedia
My Rating:

Asako lives in Osaka. She falls in love with Baku, a free-spirit. One day, Baku suddenly disappears. Two years later, Asako now lives in Tokyo and meets Ryohei. He looks just like Baku, but has a completely different personality.
I originally wanted to see Asako I & II when it was playing at the 2018 Philadelphia Film Festival, but due to scheduling conflicts, I was unable to attend. Thankfully, Grasshopper Films distributed it on home video earlier this year and I was able to finally watch it. Although I've heard of other films from director Ryûsuke Hamaguchi such as his five-hour epic from 2015 titled Happy Hour, this is the first film of his I've seen.
The film opens with Asako (Erika Karata), a young woman, falling in love with a man named Baku (Masahiro Higashide) as soon as she sets her eyes upon him. Her friend warns her that Baku is a heartbreaker, but she decides to still pursue a relationship with him. Baku can be quiet and suddenly disappear for weeks at a time, only to return without explanation. Baku tells her he'll always return, but the next time he disappears the two are split and fall out of touch with each other. We then see the story jump ahead a couple of years. While Asako has moved on from Baku, she runs into Ryohei (also played by Higashide), a businessman who works down the street from the coffee shop she works at. She mistakes him for Baku, as the two look similar. Ryohei is confused by Asako's abnormal behavior but in due time the two fall for each other. Does she genuinely love Ryohei, or is she only with him because he reminds her of Baku?
The one gripe I have about the film is that while Asako and Ryohei are supposedly in love, even Ryohei's love towards Asako doesn't seem that very strong. I can understand why Asako wouldn't make her feelings for Ryohei so obvious if she not over Baku, but even so, I'd expect more coming from Ryohei's end. Instead, the relationship feels more like a business and the two are just being nice and courteous to one another.
Nonetheless, with Baku's mysterious side and seeing Asako and Ryohei come together and ride out their relationship, with the three ultimately crossing paths at one point, Asako I & II makes an interesting watch. The soundtrack provided by tofubeats was also a great fit, and I plan on making it a point to check out Hamaguchi's other films in the future.
Related Posts