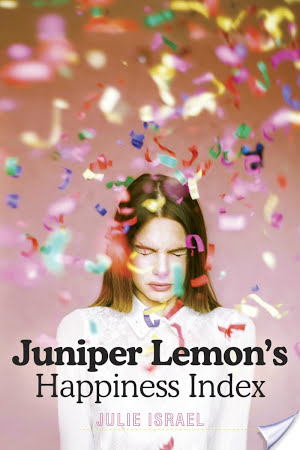 Title:

Juniper Lemon's Happiness Index

by Julie Israel
Published by
Kathy Dawson Books
Released:
2017
Genres:
Death & Dying
,
Romance
,
Social Themes
Length:
346
Format Read:
Hardcover
Links:
Goodreads
|
Amazon
|
Barnes & Noble
|
ThriftBooks
My Rating:

Funny, warm, and moving, Juniper Lemon's Happiness Index is a contemporary YA novel about loss, how deeply we can know others, and making our own happiness; perfect for fans of Sara Zarr and Jandy Nelson's The Sky Is Everywhere.

Sixty-five days after the death of her older sister, sixteen-year-old Juniper Lemon discovers the break-up letter addressed to "You" Camilla wrote the day she died. Juni is shocked—she knew nothing of this You, and now the gaping hole in her life that was her sister feels that much bigger. She's determined to uncover the identity of You and deliver the letter. Maybe that would help fill the hole, even if only a bit.

But what Juniper doesn't expect is that in searching for You she will unearth other notes and secrets—and that may be just what she needs to sort out her own mess.
Juniper Lemon's Happiness Index is a book that caught my eye while browsing the bookstore over the summer. Even though I have a huge stack of books at home still waiting to be read, I checked out a copy from the library, effectively moving it to the front of the line.
Juniper has been counting the days since her sister's death, and on day 65 she discovers an undelivered breakup letter written by her sister addressed to "You". She has no idea who "You" is, other than a secret boyfriend or girlfriend. She's determined to find out who "You" is and deliver the letter as means of closure, not just for "You" but also for her. Along the way Juniper makes some friends, learns some secrets, and ultimately sticks her nose in business that isn't hers, even if she has good intentions.
I don't know if it's just me who thought this, but because the synopsis doesn't elaborate much on the details of Camille's death. I thought she committed suicide. I was wrong, as I eventually found out in the middle of reading the story. Oops.
If you ask me what I like about Juniper Lemon's Happiness Index the most, I wouldn't be able to tell you. It's wholesome, sweet, funny, and sometimes even a little sad. I really enjoyed the characters, their humor, and their shenanigans. I enjoyed how determined Juniper was with finding out who "You" is and helping others along the way. I enjoyed how she stood up to Morgan, how there's some light romance without overdoing it and being too mushy, which I can never stand, and I enjoyed how Juniper always remembered the good of her sister. The ending of the story, while not quite the direction I was hoping for, was still a nice finish, bringing more closure. I have no gripes other than that about the story, and since I was sucked in, enjoyed it completely, it's a 5 out of 5 for me. If someone were to ask me for a recent YA novel to check out, I would most certainly suggest this one. Julie Israel is definitely an author I'll be keeping on my radar for future releases.
Related Posts