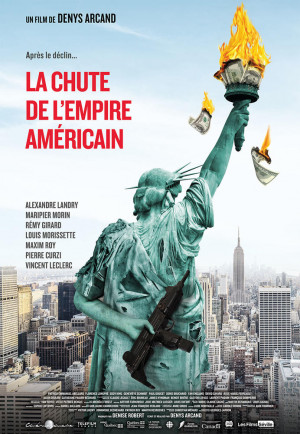 Title:
The Fall of the American Empire
Released:
May 31, 2019
Genres:
Comedy
,
Crime
,
Romance
Length:
2 hours, 7 minutes
Links:
IMDB
|
Wikipedia
My Rating:
A shy and insecure delivery truck driver accidentally arrives on the scene of a major crime and happens to pick up two bags of cash and hides them in his truck. Though an interrogation of two tough police detectives isn't enough, the guy, who has a doctor's degree in philosophy which makes his mind mingle with remorse, must find a way to get rid of this dirty money. Only the help of a prostitute and a former biker who came out of jail might get him out of trouble, especially that a gang leader is very weary to get his cash back or kill whoever is responsible for this mess. However, even the two bumbling detectives are monitoring the case as well.
Known as La chute de l'empire américain in Quebec where it was filmed, The Fall of the American Empire is one of the funniest films I've seen in recent times. It's worth noting that this isn't a sequel to the 1986 film The Decline of the American Empire or 2003 film The Barbarian Invasions, but rather is only thematically related. I have yet to see either of those two films.
This film is based on a 2010 incident where two people were killed in an Old Montreal boutique, and from there, director Denys Arcand let his imagination do the work.
The story goes like this: Pierre-Paul Daoust (Alexandre Landry) is a package delivery driver. One day during his route he pulls up to a shop, and as he does, there is a gang-related robbery going on inside. As the robbers are running outside to escape, a man inside shoots the two criminals. One runs off and the other is dead, leaving next to him a duffel bag of cash. Pierre-Paul looks around, deems it safe, and carries the bag over to his delivery van just as the police show up. To his luck, he avoids getting caught with the cash in his truck. Nonetheless, the police still suspect them. He's never been a criminal up until this point, so he's winging it. He's awkward. One of the first things he does upon taking all this money is order an expensive prostitute, Aspasie (Maripier Morin), to his house, of which the police are very much familiar with and all the more suspicious, but they have no definite proof other than questioning how he could afford her.
The story goes on as Pierre-Paul tries to handle all this money, and also grows into a relationship with Aspasie/Camille, both to throw the police off but also because the two are attracted to each other. They make a cute couple.
It was a funny film with seeing what Pierre would do, plus mixed in with his inexperience, both as a criminal and relationship wise. Pierre-Paul was a hard-working Canadian citizen, as he even volunteered at a local homeless shelter. Without getting too political, the film even shone the light on the homeless problem. Not just with Quebec, but the fact that it's a problem everywhere. There is one part where the film merely focuses on the faces of several homeless people while music plays. It's a silent statement that speaks volume.
Overall, I really have nothing negative to say about this film. It was a great watch.
Related Posts