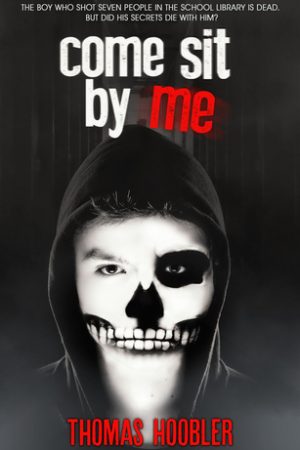 Title:

Come Sit By Me

by Thomas Hoobler
Published by
Booktrope
Released:
July 22, 2015
Genres:
Mystery
,
Paranormal
,
Young Adult
Length:
218
Format Read:
eBook
Links:
Goodreads
|
Amazon
|
Barnes & Noble
My Rating:

Disclosure: I received a complimentary copy of this book from the author. This does not affect my opinion of the book in any shape or form.
The boy who shot seven people in the school library is dead. But did his secrets die with him?

Something terrible happened at Hamilton High last year, and those who survived don't want to relive the past. But Paul has just arrived, and gets the same locker that the shooter used. He wants to know what really happened...and you know what curiosity did to the cat.
Come Sit By Me is a morbid book. It's not extremely graphic or anything, it just doesn't shy away from censoring or keeping things clean. It gives an accurate portrayal of high school and how us human beings can be driven to our breaking point. That's what I mean.
Hamilton High suffered a school shooting, an occurrence that's far too common in modern-day USA. People typically flee town when such a thing happens, there's too many bad memories associated now. But Paul's family is different. Houses are cheap in the area so Paul's dad decided that the three of them – Paul, his dad, and younger sister, were leaving New York and moving to Hamilton, Pennsylvania.
The book opens post-move, right before the school year begins for Paul and his sister. Only several months prior did a boy named Cale shoot up the school. It turns out Paul got assigned Cale's locker, and he gets the feeling that there was more than meets the eye with Cale deciding to kill multiple students and several faculty members. Paul decides to secretly investigate if Cale left anything behind that would say why he did it, and his job working for the school newspaper alongside his new friend Terry allows him to be nosey without raising much suspicion.
What I liked about the book is that it gives an accurate portrayal. We question life and death and we're sexual beings, especially in high school. The book doesn't shy away from including stuff of the sexual nature, but it doesn't go all out with 50 Shades of Grey-esque descriptions. Just your typical teenage shenanigans with boobs always being on Paul's mind. I can see some of myself in Paul, but let's not go there. I also enjoyed the humour throughout. A few times I chuckled as I found some bits to be pretty funny. For example, at one point Paul actually turned down a BJ and it says "I know that if you're a boy, you probably think I was an idiot". That I definitely agree with and laughed at. The book also has some other moments of crude humor, for example saying that the football coach, Mr. Hardin, was called Mr. Hard On by the students. Yep, I'm such a guy for finding that funny.
The book mostly falls under the mystery genre, as Paul is trying to figure out what Cale's motives were, as the case is sealed shut and people are trying to move on. However he feels that it's his own personal objective to solve the mystery on why Cale decided to do it. It does have a little bit of a paranormal tie-in but it's minor.
Although I'm giving the book a 5 star rating because I really enjoyed it, there was a few small things I didn't care for. First up is a random little hookup between Paul and a cheerleader from the football team. I don't mind that it was included but it didn't really do much of anything for the plot. I also didn't care for the journey spelling. I understand it was done purposefully but it definitely took a bit to read. I'd go into specifics but it'd be a bit spoiler-ish. Finally, I found a certain character (again, not going into specifics due to spoilers) to be too predictable. Even so, I really enjoyed the story between the plot, catchy writing (I was hooked from page 1), and the fact that the book didn't shy away from human nature and giving an accurate portrayal of the thoughts and actions of humans. I definitely wouldn't have minded more Paul and Terry moments.
Related Posts